Biker Leather Jackets For Mens & Womens
The first ever Biker Leather Jackets For Mens & Womens came out in 1913 and these jackets were first fabricated by two brothers Irving and Jack Schott. However, in 1928 the first proper motorcycle jacket by the name of Perfecto came for today's number one motorcycle dealership company Harley Davidson. The 'Perfecto' jacket's design is still in consideration by vintage fashion trendsetters.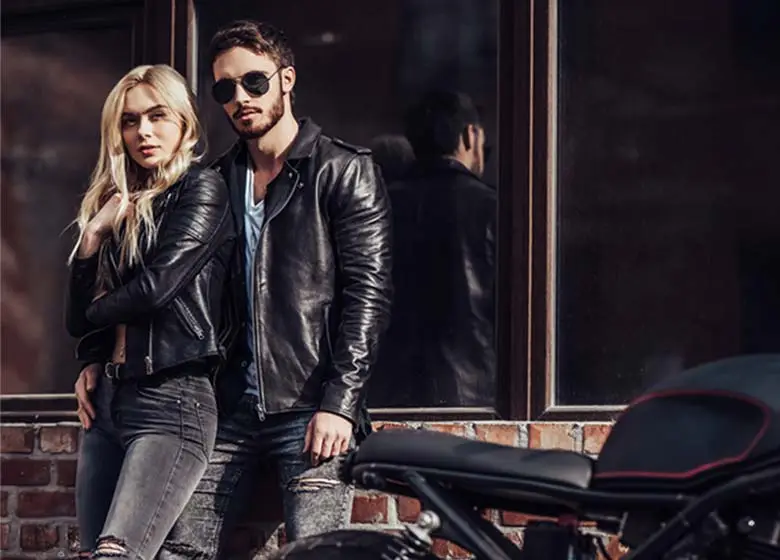 HOW THE BIKER JACKET BECAME FAMOUS:
There is no proof needed why the Biker Leather Jacket is famous. Several of the features that have made this jacket super popular include its fabrication material, which can make this jacket last for at least a decade. Plus the versatility of this jacket allows you to wear it on both casual and official occasions.
Therefore, the main reason for the success of the Men Biker Jacket is the movies because, in the old age era, there were websites, smartphones, and other digital marketing services. But the movies were one thing that became the ladder of success for these jackets. The Leather Biker Jacket first appeared in the first-ever movie made for the biker community The Wild One that came to theater screens in 1953. The main leading character of Johnny from the movie was portrayed by none other than Marlon Brando himself. After The Wild One, the Biker Men Jacket started appearing in other Hollywood and from that era, the biker jackets reached the sky level of success.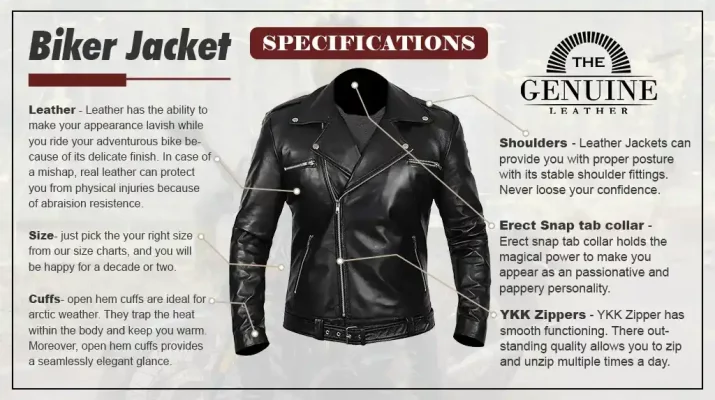 Allow us to disclose some prominent items for you.
Men Black Johnson Leather Jacket: A product of eternity!
Mens Black Retro Vintage Jacket: A sign of versatility for bikers.
Harley Davidson Bill Goldberg Jacket: What can be better than this if you are a biker?
Mens Cafe Racer Motorcycle Leather Jacket: A more robust choice for your personality!
BIKER JACKETS BY THE GENUINE LEATHER: 
Our true top-rising online apparel store The Genuine Leather store is filled with dozens of sturdy-looking and vintage-style jackets, that are durable and long-lasting. Plus these jackets are good for longer cruise rides because our Real Biker Leather Jacket are made from premium-quality material which is good for surviving the winds and weather of rough roads. 
There are some truly catchy Biker Leather Jackets For Mens that we are offering at very reasonable prices. Some of our best-selling biker jackets are mentioned below: 
Our list of biker jackets doesn't end here. Therefore, there are plenty more jackets to put in your cart and bring back vintage biker jackets. The biker jacket category is not filled with only men's jackets but Biker Leather Jackets For Womens are also piled up in our stock of biker jackets.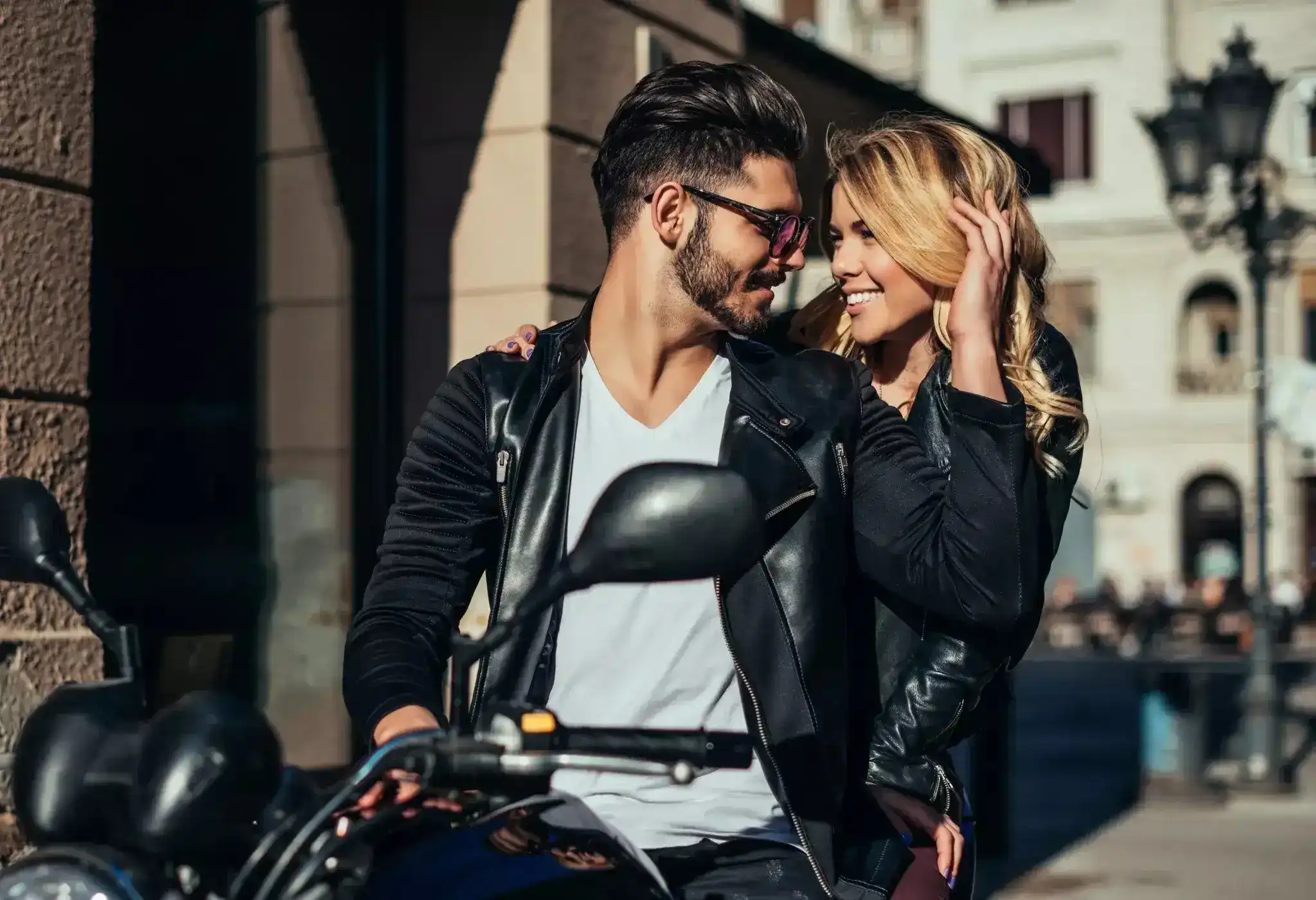 Undoubtedly it is valid! This property assists them with remaining warm all through their ride. Additionally, the Leather Biker Jacket can shield them from residue and bugs that can experience in the breeze. So why not hold onto one for yourself from our superior texture assortment of Men's Biker Jackets?
Frequently Asked Question
How to wear a Biker Jacket?
Wear Biker Jacket casually with some jeans and a white T-shirt, or go all-out rocker with some checkered pants and clunky boots.
What is a Biker Jacket?
A brief, form-fitting Biker Jacket with zips and studs that is popular among riders.
What is the Best Biker Winter jacket?
Biker Winter Jacket Including
Gore Wear C5 Gore-Tex INFINIUM Thermo Jacket
Castelli Perfetto Ros 2 jacket
Assos Mille GT Ultraz Winter Jacket Evo
Sportful Total Comfort jacket
Giro Cascade Insulated Jacket
What do bikers wear in the rain?
Bikers wear Rain Jackets or Rain Ponchos during the raining time.
What kind of Jackets do bikers wear?
 The leather jacket and the textile jacket are the two main styles of motorcycle jackets. Motorcycle categories include cruisers, racing motorcycles, street motorcycles, and adventure motorcycles.
Why do bikers wear jackets?
Protects riders better than ever. Bikers wear leather jackets, vests, chaps, and other gear for safety reasons. Yes, leather is very abrasion-resistant. In the event of a crash, this minimizes bruises and cuts.
What Things to Know When Buying a Motorcycle Jacket?
Safety & Durability. The most important thing when you get off your bike is your safety.

Affordability factor. If possible, it would be great to have a different jacket for different situations.

Personality. 

Depending on the weather. 

Comfy and stylish. 

 
How thick should a Motorcycle Jacket be?
It is best to leave cows to make leather in the 2.0mm thickness because it would be heavy and stiff. Motorcycle jackets with thicknesses between 1.0 and 1.6 mm are a good compromise
Are Leather Motorcycle Jackets WaterProof?
Rain is a minimal concern with leather. As a rule, a rider who wears only leather will be wet since leather naturally resists water for a while
What is the jacket called that bikers wear?
There are several names for motorcycle jackets. However, one of the popular names is the cruiser jacket.
Are biker jackets still trendy?
Yes, biker jackets have been on top choice of outerwear for a decade and they are still on top nowadays because of their sturdy looks and genuine quality fabric.
Why do people wear biker jackets?
Biker jackets are usually worn before going on a long-route ride because these jackets can bare harsh weather conditions and are long-lasting.
how to wear a biker jacket?
You can style up your biker jacket in several ways one of the best ways is to wear it with leather boots along with denim jeans of blue or black and a plain tee under the jacket.
Why are biker jackets so short?
These biker jackets are short in length because of fabric stretch and a comfortable feel while sitting somewhere.