Mens Faux Leather Jackets, Faux Leather Jackets
What do you look for when you're looking for the perfect jacket? Do you want something unique and appealing, or do you want to be as relaxed as possible? What if we surprised you with a collection that didn't ask you to make any concessions? Are you seeking a unique and trendy appearance that will make a statement? No need to look any further: Authentic Leather provides the most trendy and authentic Faux Leather Jackets that will certainly turn heads and make you the coolest guy on the street! These jackets are durable, fashionable, and comfortable. It will also supply you with the safety you want on the road as well as the style you require at events.
Faux Leather Jackets
We feel that fashion and maximum comfort are inextricably linked. Wear these Leather Jackets and you'll be dipping your toes in the ultimate fashion fountain! Faux leather jackets range from Aviator to basic Bomber. We offer everything from a Man of Steel jacket to a Star-Lord-themed jacket. Choose your look and go for it! Our Leather Jackets are manufactured with care and sustainably sourced materials. Burgundy Red, Tan Brown, Canary Yellow, and Obsidian Leather Jacket are just a few of the traditional and unique hues we have available. These jackets will give you the feeling of a fashion moment every second, thanks to their unusual hues!
Something For Animal Lovers
We have taken a special step for our animal lovers. People who don't like to wear actual animal skin but still want to show off their dazzling persona wearing an outstanding leather jacket. We have just the right thing for you. We have come up with a collection that especially contains all the outfits that are crafted with faux leather.  We don't want our consumers to go empty-handed. You're guaranteed to find faux Leather Jackets that match your personal style!
Faux Leather Jacket collection 
These sophisticated items of taste can assist you in connecting with the fashion world. These are masterworks that are really upbeat. Each Leather Jacket in our inventory is genuine, one-of-a-kind, and authentic! With our assortment of  Leather Jackets, you have the choice of becoming a fashion icon. We'll let you set your expectations as high as you want since, with our designs and quality, you'll always receive more than you bargained for! Leather Jackets are available in a variety of styles, from the most understated to the most flamboyant. You may now travel with a renowned appearance in the most convenient way conceivable.
The list of these Faux Leather Jackets' excellent attributes is endless. Jackets from your favorite movies, TV series, and video games are included. And the greatest part? It's affordable! We're confident you'll find what you're searching for in the Faux Jacket collection. And after you have it, you'll definitely come back to shop here. A leather jacket wearer is a leather jacket wearer forever! Don't simply wear these Leather Jackets For Women; use them to demonstrate your attitude, confidence, individuality, and value! Surprise yourself by bringing a revolution to your wardrobe. These coats are also really appealing.
Invest in a jacket that flatters your figure and improves your entire look. All of this, in addition to feeling great in your own flesh. In terms of comfort, you'll want to wear the Best Leather Jacket over and over again without ever growing bored of it. Furthermore, if you wear a Men's Jacket from this collection, you will frequently hear the term "autograph" please!
Our Faux Leather Jackets collection is just a way of wishing you a pleasant winter! This winter, grab this incredibly antique and exquisite Leather Jacket to carry your style.
Faux Leather Jackets are almost the same as all other regular leather jackets. The TGL is bringing up really iconic products in the faux leather category. Mainly this leather jacket is made up of different kinds of artificial materials that are used to give faux jackets the look of all real leather jackets. 
The first ever-released jacket made of faux was known as presstoff and the jacket is still in production today. It was released during world war times in Germany but never got a chance to spread production outside Germany. The main difference between a real leather jacket and a faux leather jacket is that a real leather jacket is made from real animal skin and a faux jacket is fabricated from plastic-based materials. However, the faux jacket is also stretchy and durable and can be used in strong and stormy weather.
There is a wide range of stylish and glamorous jackets available in our category of Faux Leather Jackets and the good part is that, unlike other online stores, we have various sizing options available for leather wearers. Some of the iconic representations of faux leather jackets from our store are mentioned below.
Men's Casual Slim Fit Faux Leather Jacket
This Men's Faux Leather Jacket edition is a slim fit wear for studs out in town. It represents the classic street style of jackets. This jacket is formed from fine-quality faux material which makes it a durable product to wear during long-distance traveling even if you are willing to shine like a sturdy punk man among your biker buddies then it's a really good recommendation for you. This slim-fit masterpiece is available in numerous sizes. We have more related jackets like Mens Cafe Racer Retro Black Motorcycle Jacket in our stock.
Zendaya Spider-Man Biker Leather Jacket
This Tacvasen Faux Leather Jacket Men is one of a kind jacket that is made from premium-quality faux leather material. To enrich the look of this high-quality jacket a hood is added to the jacket. It comes in iconic and many brown colors with two zippers and one button pocket on the front. The overall texture look of this jacket is similar to the pure cowhide leather jacket. Moreover, it is a really cool option for biker boys or even if you are looking forward to hanging out in the pub with your friends. We are stocked up with more faux stuff for our biker boys like Five Finger Death Punch Biker Jacket. 
Women's Faux Fur Quilted Moto Jacket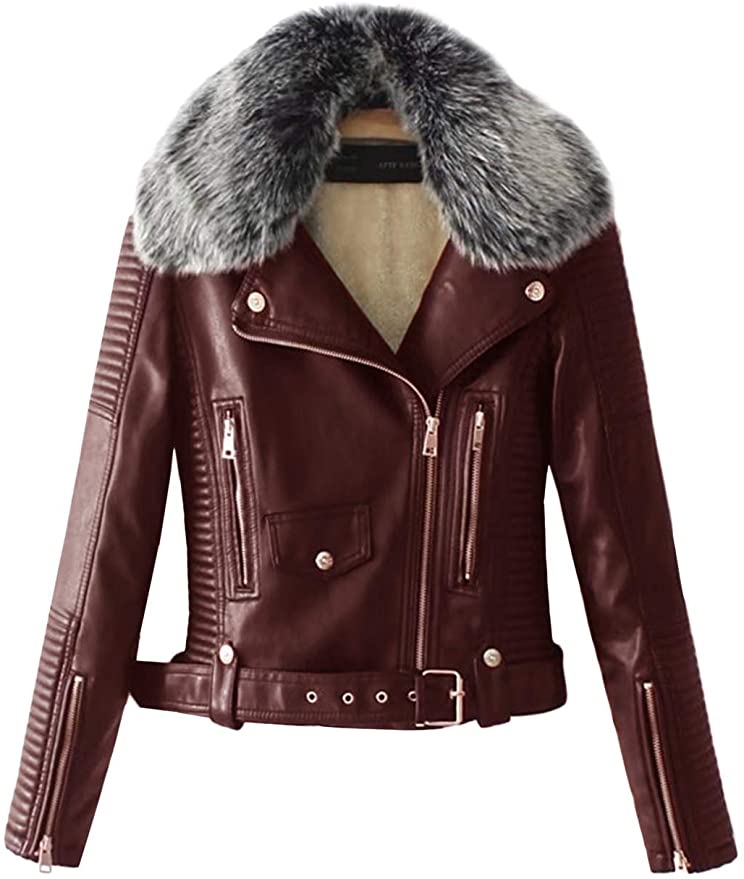 Nowadays Women's Faux Leather Jackets are taking over the trends of leather apparel and they are bringing men's products into the women's wear categories. Leather jackets are gaining the attention of women from all around the world. So many brands have launched a huge variety of leather jackets for women and the mentioned product is one of the epic Faux Leather Jacket designed for women. It comes with an iconic lapel collar with an elegant floral print and a red color that enhances the overall look. The TGL store has stocked up with more women's leather jackets like Womens Boda Style Quilted Red Jacket.
Frequently Asked Questions
Where do faux leather jackets come from?
Ans: The faux leather jackets are made of good-quality plastic base materials. These jackets are very long-lasting and durable products to wear throughout the day. Faux jackets are quite stretchable and cozy to wear.
Which faux leather jacket is best?
Ans: There are tons of Faux Leather Jacket brands that are claiming to be the best producers of leather jackets in town. Some of the faux jackets that are gaining popularity in this new era of fashion are biker jackets, puffer leather jackets, vegan jackets, and classic faux jackets.
Can faux leather jackets be repaired?
Ans: Yes peeled faux leather can easily be repaired if handled by an expert repairs man. These jackets just need the right amount of dye to tear and peel. You can also restore the shine and texture quality of the jacket.
How to add style to your faux jacket? 
Ans: You can enrich the overall look of your faux leather jacket by adding a white shirt under it if you are going on a night out with your friends. You can also try a high-neck under it if the weather is too cold and as lowers, you can add elegant-looking blue jeans.
What is the lifespan of a faux leather Jacket?
When it comes to imitation leather, how long does it last? Although imitation leather is not as long-lasting as genuine leather, it may sometimes survive for four to six years. As time passes, the laminated outermost surface cracks and peels.
What's the best way to take care of a Faux Leather Jacket?
Check for stains on the garment. Most stains on imitation leather may be cleaned with a microfiber cloth wet with warm water.
Should you hand-wash or machine-wash your clothes?
Cool or warm water should be used.
Choose a mild detergent.
Invert the garment and turn it inside out.
Agitation in a gentle manner.
Rinse with cool water.
Faux leather dries quickly.
Is it possible to break in a synthetic leather jacket?
An imitation leather jacket will stretch, but not as much as genuine leather will. One thing to keep in mind is that a faux leather jacket is more likely to crack or rip than a genuine leather jacket.
Is it true that synthetic leather keeps you warm?
First and foremost, imitation leather lacks the absorption qualities of real leather and is not as heavy, therefore it provides little to no warmth.
What's the best way to avoid synthetic leather from cracking?
PVC moisturizer should be used for any little spots of imitation leather that appear to be dry and cracked. Faux leather is constructed out of numerous synthetic elements, most of which include a coating of PVC (polyvinyl chloride), and a PVC moisturizer that protects it from drying out.
Is it possible for imitation leather to become wet?
While most imitation leathers are waterproof, genuine grain leather is porous and can rot or fracture if not dried soon after becoming wet. Waterproofing treatments may be used to protect it from the weather, but they must be applied on a regular basis.
Is it possible to polish fake leather?
 You can certainly polish your imitation leather jacket, and it is a good idea to do so. To do so, use a soft cloth to gently remove the residue away before applying the polish for a fresh look.
Is it necessary to wear a fake leather jacket that is too tight?
It should feel tight on your shoulders but not constrictive. An excellent idea is to wear the sort of layers you'll be wearing the most under your jacket when you try it on. Wear t-shirts and blouses beneath, for example, if you intend on wearing lighter apparel below.