Tall Girl Outfits Collection
Tall Girl Outfits Collection, Tall Girl 2 Jackets Collection
When you're shopping for the perfect jacket, what do you look for? Do you want to be as calm as possible or do you want something distinctive and appealing? What if we presented you with a collection that required no sacrifices from you? Are you looking for a distinct and fashionable look that will make a statement? You don't have to search any further: The Authentic Leather offers the most fashionable and authentic Faux Leather Jackets that will make you the coolest guy on the block! These coats are long-lasting, stylish, and comfy. It will also provide you with the safety and style you require on the road and at events.
The Genuine Leather brings you an astounding collection of outwears that will not only elevate your persona but also keep you warm in the most arctic weather conditions. TALL GIRL OUTFITS COLLECTION is the best thing that could ever happen to your dazzling wardrobe. It has all the vibes you need to conquer the world with your dazzling persona. So what are you waiting for? Grab these right now to show off to the world your appearance. 
Tall Girl Storyline    
Tall Girl is a 2019 American teen romantic comedy film directed by Nzingha Stewart and based on a Sam Wolfson script. Griffin Gluck, Sabrina Carpenter, Paris Berelc, Luke Eisner, Clara Wilsey, Anjelika Washington, Rico Paris, Angela Kinsey, and Steve Zahn feature in the film. Netflix premiered it on September 13, 2019.
Jodi Kreyman is 6 ft 1+1⁄2 in (1.87 m) tall. Her older sister Harper is of average height and has won multiple beauty pageants. Jack Dunkleman, a life-long friend, frequently asks her out, partly because he's much shorter than her. Kimmy Stitcher, her bully, starts showing Stig Mohlin around.  Dunkleman and Stig have a fistfight, causing him to get a black eye. Schnipper is now interested in Jodi, so he gets Kimmy to ask her to join them for an escape room activity; Jodi ditches a concert with Fareeda to go.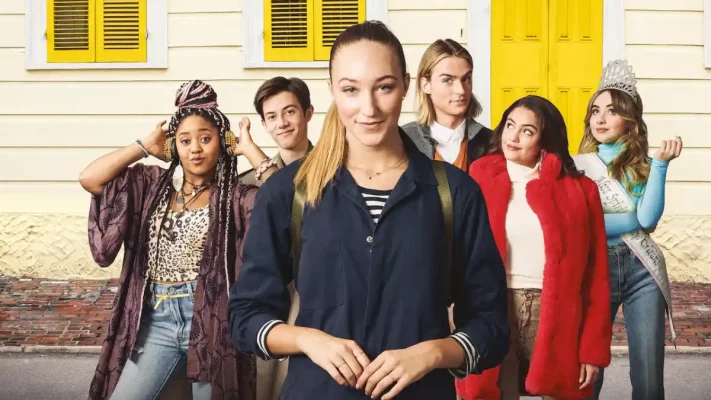 Tall Girl Outfits Collection 
These sophisticated items of taste can assist you in connecting with the fashion world. These are masterworks that are really upbeat. Each Jacket in our collection is genuine, one-of-a-kind, and authentic! With our assortment of  Leather Jackets, you have the choice of becoming a fashion icon. We'll let you set your expectations as high as you want since, with our designs and quality, you'll always receive more than you bargained for! Leather Jackets are available in a variety of styles, from the most understated to the most flamboyant. You may now travel with a renowned appearance in the most convenient way conceivable.
The list of these Tall Girl Outfits Collection's excellent attributes is endless. And the greatest part? It's affordable! We're confident you'll find what you're searching for in this Outfit Collection. And after you have it, you'll definitely come back to shop here. A  jacket wearer is a  jacket wearer forever! Don't simply wear these Leather Jackets For Women; use them to demonstrate your attitude, confidence, individuality, and value! Surprise yourself by bringing a revolution to your wardrobe. These outwear are also really appealing.
Frequently Asked Question
Is there anything in Tall Girl that isn't appropriate?
In this film, there is a lot of profanity, as Sabrina Carpenter, who is shorter than her sister, uses explosively strong language to criticize her sister's height. Overall, this film offers several excellent role models and wonderful themes; it is appropriate for children aged 4 and above.
Is Paris Berelc going to appear in Tall Girls 2?
The cast of Tall Girl 2:
Ava Michelle, Griffin Gluck, Sabrina Carpenter, Paris Berelc, Luke Eisner, Clara Wilsey, Anjelika Washington, Rico Paris, Angela Kinsey, and Steve Zahn star in the key roles.
What is the height of the girl in Tall Girl?
The film 'Tall Girl,' which follows Jodi Kreyman, a sixteen-year-old high school student, is an outstanding example of this style of the film (Ava Michelle). Jodi is the tallest girl in her primary school, at 6ft and a half inches tall.
What will the plot of Tall Girl 2 be?
Tall Girl 2 is instead about Tall Girl Jodi Kreyman adjusting to her newfound fame – and learning that, in the face of her rising fears, she needs to make sure she still stands tall in a metaphorical sense as well.
What part does Liz play in Tall Girl?
Paris Berelc stars as Liz in Netflix's Tall Girl – Netflix's Tall Girl: Who's in the Cast – PopBuzz
Is there going to be a Tall Girl 3?
Tall Girl 3 is yet to be formally confirmed by Netflix, but To All the Boys I've Loved Before and The Kissing Booth, two of the streaming platform's most successful adolescent rom-com series, have lasted three features. So hoping for the third installment of Tall Girl isn't a bad idea.
Is there any mention of Alexa from Alexa and Katie in Tall Girl?
Griffin Gluck (American Vandal) portrays Jodi's best friend Jack Dunkleman; Luke Eisner (The Goldbergs) portrays Stig, a handsome and equally tall Swedish foreign exchange student; Sabrina Carpenter (The Hate U Give) portrays Harper, Jodi's older sister; and Paris Berelc (Alexa & Katie) portrays Liz, the unconventional.
What are the advantages of being a tall girl?
Tall ladies do not have this difficulty since some people go to extremes hoping to be recognized. Tall women are remembered, which may be beneficial in a variety of ways. Tall women are thought to be powerful, intelligent, and capable leaders. Tall women, on average, earn more money, according to research.
What is the age of the protagonist in Tall Girl?
Tall Girl 2 will focus on Jodi Kreyman's (Ava Michelle) increasing confidence as she grows more comfortable in her own skin, as well as witnessing her negotiate the social hazards of popularity in High School, rather than Jodi's vulnerabilities as a 16-year-old girl attending Ruby Bridges High.