Jeans Jacket
Jeans Jacket For Men's & Women's
Are you seeking the perfect piece to add to your wardrobe right away that is both basic and stylish? Are you looking for a piece that can be worn with a variety of styles and is appropriate for informal gatherings? Do you want to exude easy coolness? All you need is a denim jacket to put together an outstanding look that screams old Hollywood!
Denim is ideal not just for casual bottoms, but also for bold and tough jackets. It is practical, long-lasting, and low-maintenance clothing. A high-quality denim jacket will last a long time and will give sufficient protection. It can withstand a lot of abuse without even wrinkling. On chilly days, this lightweight jacket makes you feel warm, making it ideal for spring and even fall.
Should Men Wear Jeans Jackets?
Denim jackets are always a source of fear for men who prefer to dress ruggedly rather than preppy. Denim jackets are unquestionably masculine, but the real magic is in the layering; for an evening look, drape it over a casual graphic t-shirt or a cozy turtleneck. While preserving its casual rebelliousness, this garment can easily give you an enthusiastic and sporting vibe.
Denim is appropriate for people from all walks of life. You can keep your cool reputation without sacrificing your comfort in any way. This design had an instant resurgence in the 1980s, isn't at all costumey, and is just what you need to leave a lasting impression.
It's still odd to see men who are scared to make it their signature appearance. However, you may utilize our style guide to incorporate denim into your everyday wardrobe and look super cool all the time. What to wear with a denim jacket and how to choose the correct denim jacket for you will be discussed.
Buying a Jean Jacket: What to Look for
We're frequently asked, "How do I wear a denim jacket?" But there's one thing we often overlook, and it's a crucial one: how do you pick the proper denim jacket? We're here to assist you in comprehending this. When purchasing a denim jacket, the color and fit are the two most important factors to consider.
Even if you have the most expensive denim jacket, you will not look nice wearing it. The key is in the fit; if you're opting for a jean jacket, always try it on to see whether it fits properly; it should flatter your body form. You don't want it to be overly baggy or tight for your body type.
How can you tell if it's a good fit for you? Try the checklist below.
When worn over a t-shirt, it must be button-up without feeling too tight or pulled up.
The material shouldn't be overly stiff.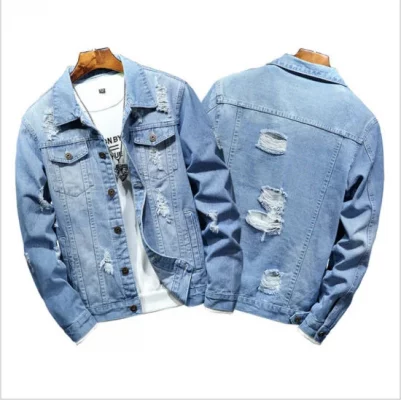 Denim jackets are designed to be short, thus the length of the jacket shouldn't reach past your beltline. However, make sure the length isn't too short. You must strike a balance between your waist and your beltline.
Always remember to check the sleeves, as they should stretch a little past the wrists.
Finally, after wearing the denim jacket, you should be able to comfortably cross your arms. As previously said, the fabric should not feel overly tight. The fabric should be a little stretchy.
How Do You Pick the Perfect Color?
Denim comes in a variety of colors these days, contrary to common perception, with blue being the most classy of them all. However, blue isn't the only option. A black denim jacket is ideal for those who want to experiment while remaining safe. Isn't black always the best choice?
But, returning to the blue color, there are numerous choices. Blue denim jackets come in a variety of styles, including distressed, washed out, printed, embroidered, plain, and more. The collection ranges from casual to formal, allowing for flexibility and adaptability.
Final Thoughts
A man's capsule wardrobe should include denim jackets. It only takes one time to get the hang of it; you'll feel so much more confident and at ease wearing it that it will quickly become your go-to outfit. Your clothes should represent your personality and mood on any given day, and what better way to achieve so than by wearing an authentic denim jacket?
Frequently Ask Question And Answer
Is it possible for me to wear a denim jacket?
Denim jackets can be worn by people of all shapes, colors, and sizes if they know how to dress them properly. Simply seek the proper fit, and if in doubt, choose a blue denim jacket!
Is it true that denim jackets go with everything?
Denim jackets can be worn for a casual indoor evening to an outdoor occasion. It may be worn with a variety of outfits, accessorized with nearly anything (including hats!), and paired with any pair of shoes
Is it acceptable to pair jeans with a denim jacket?
When worn with jeans, denim jackets look their finest. Wear black jeans with a black denim jacket as a rule of thumb since it looks great!
With a denim jacket, what pants should I wear?
With a denim jacket, you can wear trousers, jeans, formal pants, and even skirts.
Can you pair GREY jeans with a denim jacket?
Yes, your grey denim jacket will look great with grey pants.
What is a denim-on-denim outfit called?
Denim on denim jacket is referred to as a Canadian tuxedo in Canada.
Should you be able to button up a denim jacket?
Yes, a well-fitted denim jacket should always be able to button up; otherwise, it will be too tight.
Is it better to buy a light or dark denim jacket?
You can choose any hue, but if you plan to wear it in the morning, a lighter tint is preferable. The darker colors should be reserved for evening looks.
Do denim jackets look well on everyone?
Denim jackets are flattering on people of all shapes and sizes. All you have to do now is choose the correct fit and color, and pair it with the right pieces from your closet. You.