Men's Black Leather Jacket
If we talk about some of the most versatile things globally,
Black Leather Jacket
is one of them. The adaptability of this outfit is so rich that you can combine it with any dress you like. And you don't need to worry if people around you will judge this combination. Leather is already the material of fortune if maintained properly! Yes, there are rumors that it can be expensive, but you surely do not need to consider it accurate. A leather Jacket is a one-time investment option if you are wondering about buying.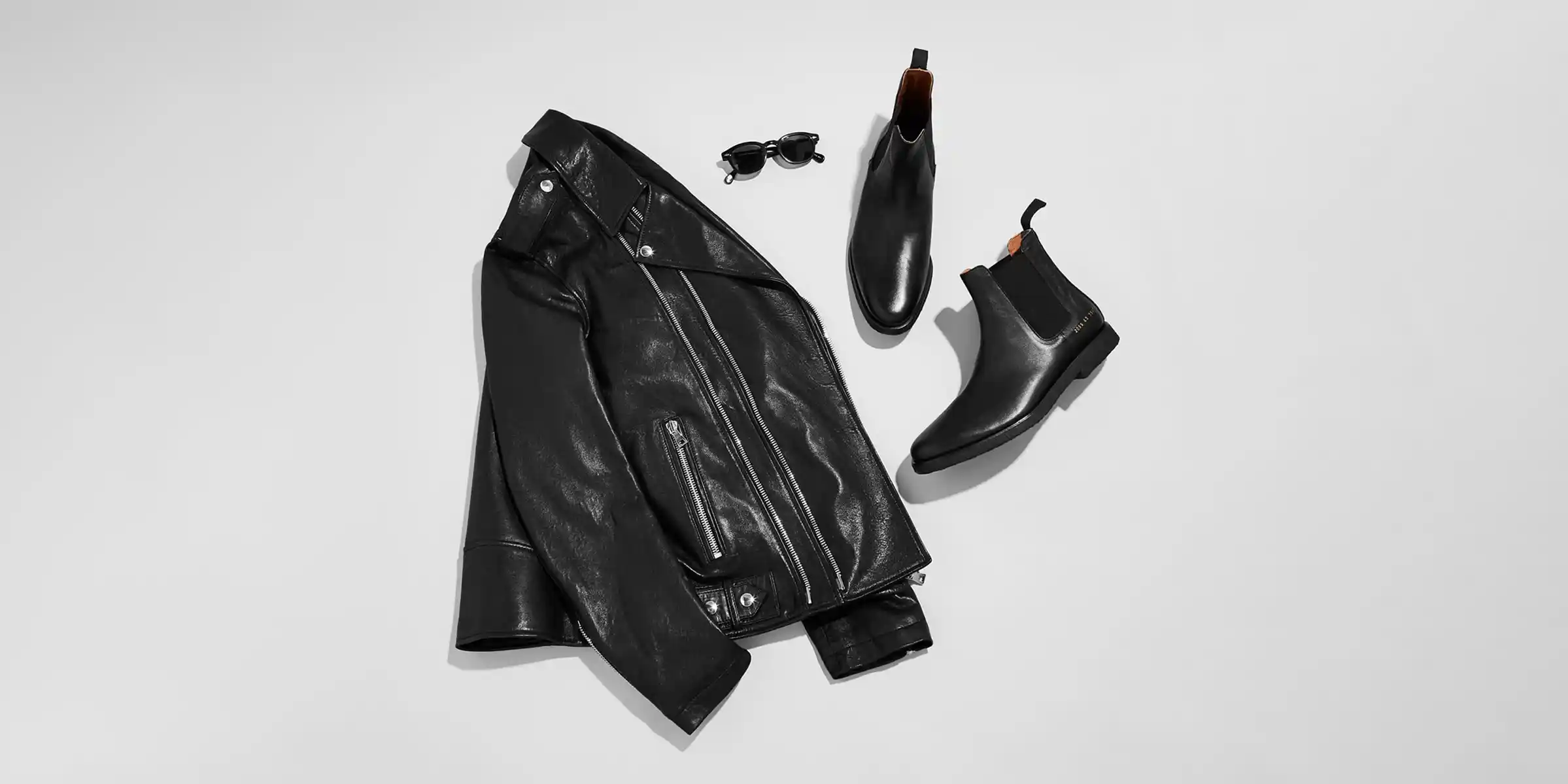 Perfect as the material
The genuine leather jacket is the perfect choice as the material. The tiny grains of animal skin assuredly provide you with insulation with style. There is a saying that your wardrobe is incomplete without a mens Black leather jacket cheap if you are man. It can protect you in winter and keep you in style forever. It is easy for our leather jackets to compete with Zara Black Leather Jacket because we provide a high-quality piece with exceptional stitching. 
Vibrant as nature
So, if you want it for formal wear or the casual option, Cropped Black Leather Jacket can serve you without a scratch. The classic taste of the 90s shall remain alive until you get bored and decide to exchange.
The seamless choice for the Biker
As a biker, it is more important to get a feel while riding. And that feeling can only be completed if you are acquiring a good pair of Black Leather Jackets Men. It can protect you from dust, and abrasions, and some of the most important; it can highlight your robust nature. So, enjoy the winds and your ride by choosing some of the Best Black Biker Jackets from our collection. That would force you to Buy Black Leather Jacket.
Some of the Prominent Collection
men biker leather jacket, Mystical Black Leather Jacket, Let us present you with some of our best options in men's black leather jacket Outfits
This jacket is perfect for all occasions, events, parties, and especially for bike riders.
Harley Davidson Distressed Biker Leather Jacket, bomber mens black leather jacket It's the best to-go closet staple intended to hoist your style in a split second.
Cafe Racer Distressed Vintage Biker Jacket, Black cafe racer Biker Jacket, We guarantee that this would be the best apparel in your wardrobe and gives excellent feelings.
Men's Aviator B3 Shearling Sheepskin Jacket, This unique Black Aviator Shearling Jacket is moving everywhere on the web simply because of its genuineness and premium quality at such a surprising cost.
Dark Knight Batman Hoodie Jacket, mens black leather jacket with hood: Is it safe to say that you are a biker? Furthermore, searching for a bonus active attire? At that point, this jacket can be the result of paradise for you.
Frequently Ask Question Answer
When is it appropriate to wear a black leather jacket?
A leather jacket may be worn almost anywhere because it comes in a variety of styles to match the occasion and your attire. As a result, having a leather jacket in your closet is a must.
Do you think black leather jackets will be out of style by 2022?
Leather jackets are a timeless item that continues to increase in popularity in the fashion world. Even celebrities like David Beckham and Keanu Reeves are wearing leather jackets that show no signs of going out of style anytime soon.
In what conditions should a leather jacket be worn?
Although a quilted leather jacket is great for winter and spring, a non-quilted leather jacket can be worn in warm weather for street style. Wear a shearling-lined leather jacket if the weather is too cold.
Which color is the finest for a leather jacket?
Leather jackets are available in a variety of colors, but brown and black remain the most popular due to their adaptability; they can be worn with any outfit, and if you're buying your first leather jacket, the brown or black hue is a good choice because it can be worn with your everyday outfits.
Is cowhide leather a costly material?
Cowhide is a popular and high-priced leather because of its durability. Full-grain leather is by far the highest expensive leather, and when it comes to hides, cowhide is one of the most famous and high-priced leathers.
What's the best way to make my black leather jacket seem cool?
Purchase a high-quality genuine leather jacket from a reputable manufacturer. If the leather feels smooth and rough when you touch it, you'll appear cool. It's best to avoid anything that feels cheap. You can make your look stand out by pairing matching footwear and clothing.
Is a leather jacket appropriate for business?
Leather jackets were not designed for business professionals, but if you keep them simple, light, and dressy, they will work nicely with casual business attire. Leather blazers are one of the greatest outerwear for formal gatherings and are sold by leather jacket manufacturers.
How do you keep a leather jacket in good condition?
Clean the jacket regularly to remove dust and apply the leather conditioner once a month. If you aren't going to use it, hang it on a broad hanger to avoid creases and make sure it isn't too dry or too moist.
What should I look for in the best jacket?
Here are a few to keep an eye out for:
It's a hood. Lipman advises prioritizing a coat with a warm, insulated hood, even if it's removable because your head will lose heat rapidly if it's not adequately protected.
Zippers that open both ways…
Hemlines with drawstrings…
A color that is appropriate for your hobbies
Is a puffer jacket appropriate for the winter?
Yes, puffer jackets are appropriate for the winter, and if picked well, they can keep you warm even in subzero weather.
Are fur Leather jackets in Style in 2023?
So, yeah,   fur leather jackets are still fashionable, as long as they're dressed appropriately. You can draw inspiration from street style and the runway to help you out.
is a bomber jacket good for winter?
At the first indication of cold weather, slip on a bomber with black denim and a T-shirt, but those with more strong linings, such as sheepskin, will keep you toasty throughout winter.
are aviator jackets still in fashion?
Aviator jackets have become a fall fashion must-have. The silhouette is a combination between a classic flight jacket and a leather biker, but with a comfortable shearling or faux fur interior for autumn chills.
Is PU leather comparable to genuine leather?
PU leather is not as good as real leather, and although top-quality leather can last a lifetime and even improve with age, top-quality PU can only last a few years with careful care.
Which leather is the most durable?
Real leather, without a doubt, lasts a lifetime, and full-grain leather is perhaps the most resilient. One of the best features of this sort of leather is that as it ages, it becomes more coveted and valuable. It can be a worthwhile buy in this disposable age.
With a grey leather jacket, what should you wear?
Although a grey leather jacket is not very common, it is unquestionably a fantastic pick. With a grey leather jacket, you can wear black trousers and a black T-shirt. Grey is a versatile hue that can be used with lighter colors as well. If you want to wear a leather jacket to a formal event, a superb leather jacket is ideal.
What is black Pleather?
Black pleather is a synthetic material that resembles leather in appearance and feel but is really constructed of plastic, most frequently polyurethane or PVC. It is a widely used fabric in the fashion industry for producing apparel, footwear, purses, and accessories that have the same appearance and texture as real leather but are more affordable. Faux leather or vegan leather are other names for pleather.
Is there such a thing as black leather?
Black leather is genuine leather that has been dyed that color. The skin of animals, usually cows, is used to manufacture leather, which is then processed and treated to make it strong, flexible, and stain- and water-resistant. Given that black is a neutral hue that goes with a variety of designs and looks, black leather is a popular choice for coats, shoes, handbags, furniture, and other leather items.
Are black and white leather jackets still in trend?
Of course, Black And White Leather Jackets are in trend. These outfits add are capable of adding edge and contrast to any outfit, whether it is a casual or chic outfit. Moreover, these are the only two outfits matching any color and style. 
Is a red and black leather jacket a good combination?
Yes, a Red And Black Leather Jacket is a good combination that never goes out of style. 
How to style a Black Leather Jacket?
You can Style Black Leather Jacket, by pairing a T-shirt, with blue jeans and sneakers. 
What to wear with a black leather jacket?
You can Wear Black Leather Jacket, from sneakers to leather shoes, with chinos and jeans, casual T-shirts, and many more. 
How to wear a black leather jacket?
You can Wear A Black Leather Jacket with jeans and a T-shirt for an effortless commanding look. 
What to wear with a black leather jacket women?
There are many ways to wear a Women Black Leather Jacket. Get yourself skinny jeans, a mini skirt, a casual top, and sneakers for a sexy look. You can add accessories like beanies and glasses to heighten your look even more. 
Shop Leather Black Jacket now for a sleek and stylish look. Available at Sale Mens Black Leather Jacket is Crafted with premium quality leather, this jacket exudes sophistication and timeless appeal. Elevate your wardrobe with this must-have fashion staple.