Men's Cafe Racer Jackets
Best Cafe Racer leather Jackets Mens Collection
Motorbikes and leather go together in a way that feels right. From both a technological and aesthetic perspective, we stock only the very best leather motorbike jacket design, and we have them all right here. Instead of garish emblems or excessive branding, you'll find a blend of styles that take the best features from motorcycle apparel from the 50s and 60s and apply them today. Leather is an excellent material to wear on the bike as it forms to fit the wearer better and better with age. However, the subdivision of a leather motorcycle jacket – the Cafe Racer Jacket is traditional and timeless.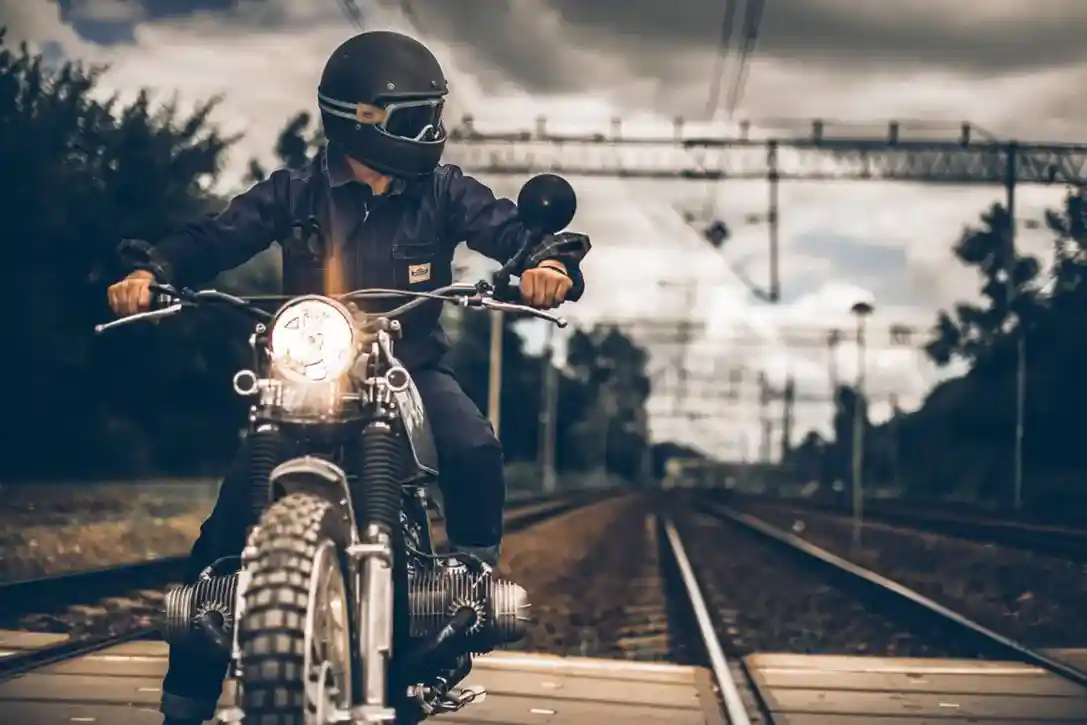 In addition to biker jackets, round collars, straight zippers, and two or four pockets, these full-grain leather jackets are often the least embellished. Although minimalistic, they are versatile! They are the ones that bridge the gap between fashion and functionality. Upholding all these unique traits about café racer men's leather jackets and red women's cafe racers jackets, we also introduce our collection of best cafe racer leather jackets in white, yellow, maroon, green, red, blue, navy blue, orange, pink, off-white and many other vibrant, decent and classic shades, just for all the vibrant and fashionable cafe racer leather jacket lovers out there.
Cafe Racer Jacket Specifications
To stand out from the crowd, cafe racer jackets are your magic sticks!
Leather – Real leather has the quality to keep you comfortable during the rides because of its delicate finishing. In case you get into an accident or fall. Real leather can protect your skin from any friction against the pavement.
Shoulder – Never feel the essence of lowering your confidence, as the jacket can provide you with proper posture its stable shoulder fitting.   
Erect Snap Tab Collar – Erect snap tab collar can secure a firm grip on your neck, making your personality more attractive.
YKK Zippers – YKK Zippers have a buttery smooth functioning. Never be afraid to open your zipper multiple times a day because of its exceptional quality.
Cuffs – Hem cuffs design gives you a seamless finish look. You can adjust it according to your hand, using zippers and snap tab buttons.
Size – Pick your perfect size from our chart, and you are good to go for a very long time.
Furthermore, the exciting part is that the genuine leather collection of vintage cafe racer jackets has a few items that have taken inspiration from the most trending movies, T.V shows, and games! You wouldn't want to miss a collection of wonders, that too – at surprisingly affordable prices!
We have jackets from money heist, fast and furious merchandise, and unchartered 2022. You don't need to worry about the prices. We offer a massive discount on all outwears in this collection.
We have a wide variety of Harley Davidson Jackets, with fascinating controversial colored contrasts and alluring design biker leather jackets that you can easily carry at all occasions and events.
There is a worldwide acceptance of café racer jackets among all age groups and both sexes. Its look ignites a spark, and the vibe it projects is always cool! Despite decades of wear, these black moto leather jackets and brown cafe racer's jackets will always keep you fashionable.
Frequently Asked Questions
Where did the term cafe racer come from?
The name originated in the 1960s among British riders who would detach extra parts from their motorcycles and race between cafés. These short trips were used as races between young cyclists, and hence the term "café racer" was coined
How should a cafe racer jacket fit?
When it comes to selecting the proper jacket, the quality of the leather is important. Cafe racer jackets should fit like a second skin and have a snug fit. While they sit tight to the body, they do require some stretch for comfort, so make sure you can move your shoulders and arms freely.
Why are cafe racer jackets are so expensive?
Cafe racer jacket is pricey simply because it must be well-made in order to keep you safe in the event of a mishap. This entails more expensive materials and higher R&D costs in order to build better and safer equipment. This can be accomplished with ordinary clothing.
Is a cafe racer jacket worth it?
They have a nice appearance and last a long time. A genuine leather jacket can be costly, but every man who owns one will tell you that it is well worth the expense. A man should get a good jacket for himself that he would wear all the time.
Can any leather jacket be a motorcycle jacket?
Cafe racer jackets contain armor for protection and are thicker, whereas conventional leather jackets are thinner and intended to keep you warm.