Mens Vest, Men Vest Jacket
No doubt, there is a time for every prominent outfit. Sometimes you adopt the heavy comfy leather to protect yourself in the cold breeze. And sometimes you go for light casual wear to stay extra breathable. In all cases, there is a need and style for every outfit. But Vest is the only attire that can drive in almost all the year; how? Let us tell you!
When there is a spring outside, you know it can be a perfect choice. You can combine it with a light color shirt and dark denim jeans and Woah! You are good to go. But in winter, you may wonder how to carry it. And you don't know how a vest can uplift your personality just like it does in spring.
So, what you need to do is simply order one size up, enough for you to wear clothes underneath. Then suit it over a woolen jacket or sweater to counter the effects of the weather. You can also wear a hooded jacket beneath to enhance the look and comfort further. In all cases, you won't regret choosing it!
Our men's Vest has the inner viscose lining to go well with any outfits you like. The fabric's premium quality will not let you believe that you are getting these at such a lesser price tag. Since we care about your money, we make the stitching tough enough to stand your most active moments. We have men's Leather Vests, puffer vests, quilted vests, cotton vests, and many more to shop for!
We also offer TV series outfits; that's how you can also find your favorite character's Vest on our site. Now let us present you with some of the best options to choose for yourself in our Men's Vest Collection.
Justice League Alfred Quilted Brown Vest
Emily in Paris Mathieu Cadault Blue Vest
Klaus Hargreeves The Umbrella Academy Robert Sheehan Vest
Yellowstone John Dutton Black Vest
Fast and Furious 9 Vin Diesel Vest
All these Men's vests are available at a discounted price with premium finish quality. So, hurry up and grab one for yourself!
The word man vest is used to describe a variety of men's sleeveless clothing. starting with the cozy undershirts and ending with the elegant leather and suit vests. A man's wardrobe typically includes a variety of vests, which are considered vital pieces of clothing. Let's look at the different types of vests to obtain some stylistic ideas for fashionable vest ensembles for men.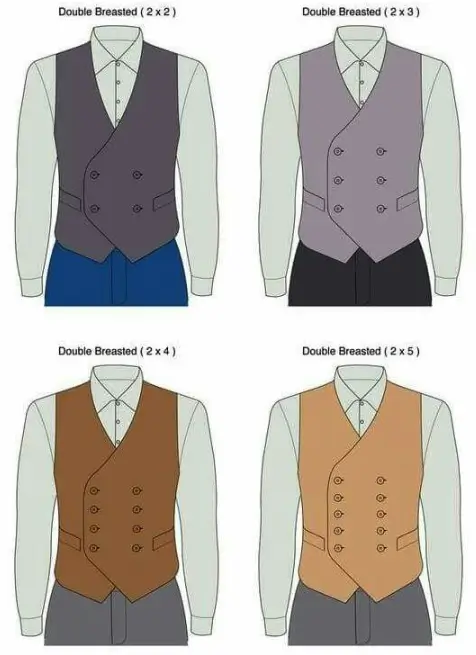 The vest is a fitting top worn on the torso that is typically fastened with buttons. Wearing a vest demonstrates a man's sense of style and awareness of his particular fashion sense. Vest jackets are excellent at providing much-needed insulation in the winter weather, while casual vests keep you cool. And if you prefer the traditional, business-casual, or preppy looks, a suit vest is one of the wardrobe must.
What Was the Vest's History?
King Charles II of England instituted the men's vest in an effort to establish the appropriate clothing code for men in the court. The vest's length was originally longer; however, it was later reduced to the waist, earning the vest the new moniker Waistcoat.
The vest did not have a delicate pattern when it was created for the English court. Men wore fairly ornate vests with decorations and other elements in the 17th and 18th centuries. Men's vest fashion changed along with changing fashion standards. The vest's design, like many others, was.
Different Men's Vest Styles
Men's vests give a layer of warmth and a hint of formality to an otherwise understated outfit. They elevate the appearance of every ensemble by fusing comfort and style. Vests come in a wide range of types based on their design and fabric. You can choose from the various men's vest styles listed below.
Hooded Vests
Men that have an affinity for hip hop or skateboarder fashion like hooded vests. A hooded vest is a popular option for guys because of its modern flair. For fall and winter, hooded vests are also offered in warmer materials, like this Fuston Red Hooded Puffer Vest for men.
Quilted Vests
A quilted vest will keep you warm and comfortable, similar to a windbreaker jacket when the temperatures drop and the chilly winds are too cold to handle. The jacket's often down or synthetic stuffing, which gives maximum warmth. Like with this elegant Fuston Blue Hooded Puffer Vest, these jackets have a design that includes puffy parts in between the stitching.
Leather  Vests
Among the different styles of leather jackets, smart, fashion-conscious guys undoubtedly favor a leather vest. A chic leather vest can be used to create a range of attractive streetwear ensembles if it fits you well. We strongly advise choosing a leather vest that is custom-crafted. 
Biker Vests
When paired with a white t-shirt, dark-washed denim, and Chelsea boots, the biker vests, which are the height of cool and machismo, look amazing. For a strong fashion statement, think about including this Sullivan Black Leather Biker Vest in your closet.
Denim Vest
These days, denim vests are really fashionable. If you compare fashionable men's vests made of leather and denim, some people will choose leather because of its upscale appearance and feel, while others would choose denim because of its adaptability. A denim vest can be used for many different things. It not only goes with a variety of shirts, but if the temperature drops too low, you can wear your favorite leather jacket on top of it.
Frequently Ask Question
What Outfits Should Men Wear With Vests?
Dark jeans, a white t-shirt, shirts in muted colors, henleys, chinos, or khakis are the ideal basics to combine with a vest for a man to appear nice wearing one. You can wear vests more casually with shorts or joggers.
Are Vests in Style?
A fashionable vest is a great choice whether you're shopping for a man or thinking about adding one to your own wardrobe. In 2021, they are very much in style.
Should Pants and a Vest Match?
It is preferable to coordinate your vest and trousers to create a cohesive look. Consider pairing a dark vest with beige, white, or light grey trousers for more casual ensembles.
How Do Men Casually Wear Vests?
Casually donning a suit vest is a stylish choice. Wearing a checkered grey vest over a blue casual button-up shirt and grey pants can help you pull off the smart casual appearance. For elegantly casual styles, you may also use vests made of leather or denim.
How Should a Sweater Vest Be Worn?
Wearing a sweater vest over a collared shirt is the proper way to wear one. The outfit's tidy appearance exudes a preppy air. Additionally, you may put on a tie to go with the sweater.
What Size Should a Vest Be?
The fit of a man's vest greatly influences its aesthetic. Don't give the impression that you obtained it through borrowing. The vest should fit snugly to maintain your comfort while maintaining a tidy appearance.
What Distinguishes a Waistcoat from a Vest?
While sleeveless, informal clothing is referred to as vests, the waistcoat is specifically the formal vest worn with a three-piece suit. These phrases are now frequently used in the same sentence.
Do You Cover Your Vest With a Tie?
If your shirt has a buttoned collar, you can put a tie over it before donning your vest. A bow tie is another accent that can be added to a formal vest suit.
Are Suit Vests Compatible with Suit Jackets?
An essential component of the three-piece suit is the vest (or waistcoat). You can match or contrast the vest with your suit jacket depending on the formality. Match the color and fabric of the vest to the jacket for more formal situations. Try changing things up by pairing your suit with a contrasting vest for less formal situations.