Top Ten Men's Jackets
Best Top Ten Men's Jackets
Southside's Serpent Jacket plays a prioritized role in the drama series. This jacket represents a heritage gang consisting of dangerous criminals who predominantly reside on the Riverdale Southside Serpents Jacket. They were initially ruled by FP Jones before he retired and then replaced by his son Jughead. 
This jacket is unique because of the big terrific two-face snake logo, first introduced in 1940 by the first serpent when the Riverdale was formed. Furthermore, the logo on the serpent's jacket is a symbol of unity and strength.
Top Gun Maverick Bomber Jacket
Tom Cruise a man who needs no intro among the groups, and almost everyone knows him as one of the evergreen personas, has something astounding to offer. And you assuredly wouldn't miss the chance when you can get your hands on the exquisite imitation of his style. Isn't it? So, why not have a look at the intriguing features of this Tom Cruise Top Gun Maverick Bomber Leather Jacket.
His Top Gun Maverick leather jacket is the exact imitation of Tom Cruise's style from the movie when he wears a leather jacket in one scene! And no doubt how irresistible it looks on him is truly undefinable! 
Mens Cafe Racer Retro Black Motorcycle Jacket
One of the iconic jackets in our cafe racer jacket collection. This is an ideal jacket for bike riders who love adventures. Moreover, its abrasion resistance attribute acts as protection against injuries in case of a mishap. 
Moreover, what makes this jacket a heavenly one is the soothing color contrast between beige and black color, creative lining design throughout the jacket will elevate your risky essence while making you an observable persona.     
What could be better than the bomber it entails in the design of a varsity jacket moreover, alongside puffer material? I know nothing could be!
A casual varsity bomber jacket deserves a precious spot in a men's wardrobe. A perfect match for Arctic weather. Elegant design holds the magical power to elevate your confidence and enhance your personality.      
Darnis black leather jacket is popular among bike lovers because of the elegant shiny texture of the jacket. The jacket is crafted of premium quality leather material. 
Sexy attributes of the jacket include abrasion resistance material to protect you from physical injuries in case you are involved in an accident. Moreover, the distinctive blazer design makes it the most desired one in the Genuine Leather Jacket Collection.
 1978 Soda Club Pelle Pelle Jacket
Considering the history of this jacket, it has a prevailing vibe involved with it. It gives a flight jacket, vintage jacket, and a seeking souvenir feel altogether. Availing of such a lucky opportunity will prove to be a good omen for you for the exciting New Year ahead! Our Pelle Pelle Leather Jacket is here to make you feel all blessed this year.
Pelle Pelle logo alongside soda club embezzled with creative embroidery enhances the peppery attributes, while it does affect your personality in a fashionable manner. Moreover, the passionate red color complemented with soothing white color makes a perfect match for a unique outwear.  
 Marlboro Racing Leather Jacket
Marlboro Racing Jacket is specially designed for people who are in love with Formula-One racing. It is crafted by the best craftsmen in the leather jacket game, and its top-notch stitching oozes elegance. It is a top-of-the-line product that helps you to elevate your style game and be a boss among the people.
Since the Marlboro Man Formula Racing Jacket is associated with racing, it is tailored in a certain way that increases its durability in order to provide maximum protection. While the jacket is sturdy and able to withstand a beating. 
Harley Davidson Distressed Biker Leather Jacket
Leather jackets, when associated with Cafe Racer, make it lit. These Cafe Racers Jackets are known as high-speed motorcycles aimed at having quick rides over a shorter distance. Moreover what makes it out of this world is the Harley Davidson logo on the chest, embezzled with contrasting dazzling color. 
Harley Davidson Distressed biker jackets which shine at a distance are very similar when near. An existing natural leather shine can help you glow even in the dim lights of the party night. This slim fit will not snug around at all and can cover you the most. Perhaps, its short banded collar is all-powerful at giving you comfort vibes.
Shearling Sheepskin Bomber Jacket
Aviator shearling jackets are the best one could have in their closet. Classic vintage color alongside lapel style collar highlights what the blazer entails in the jacket.  
Shearling jackets are renowned for arctic weather conditions, because of their entail to keep you warm and comfortable. The dazzling color contrast between vintage brown and white is astonishing. Moreover, a distinguishably isolated design makes it a missing piece between a biker and fashion.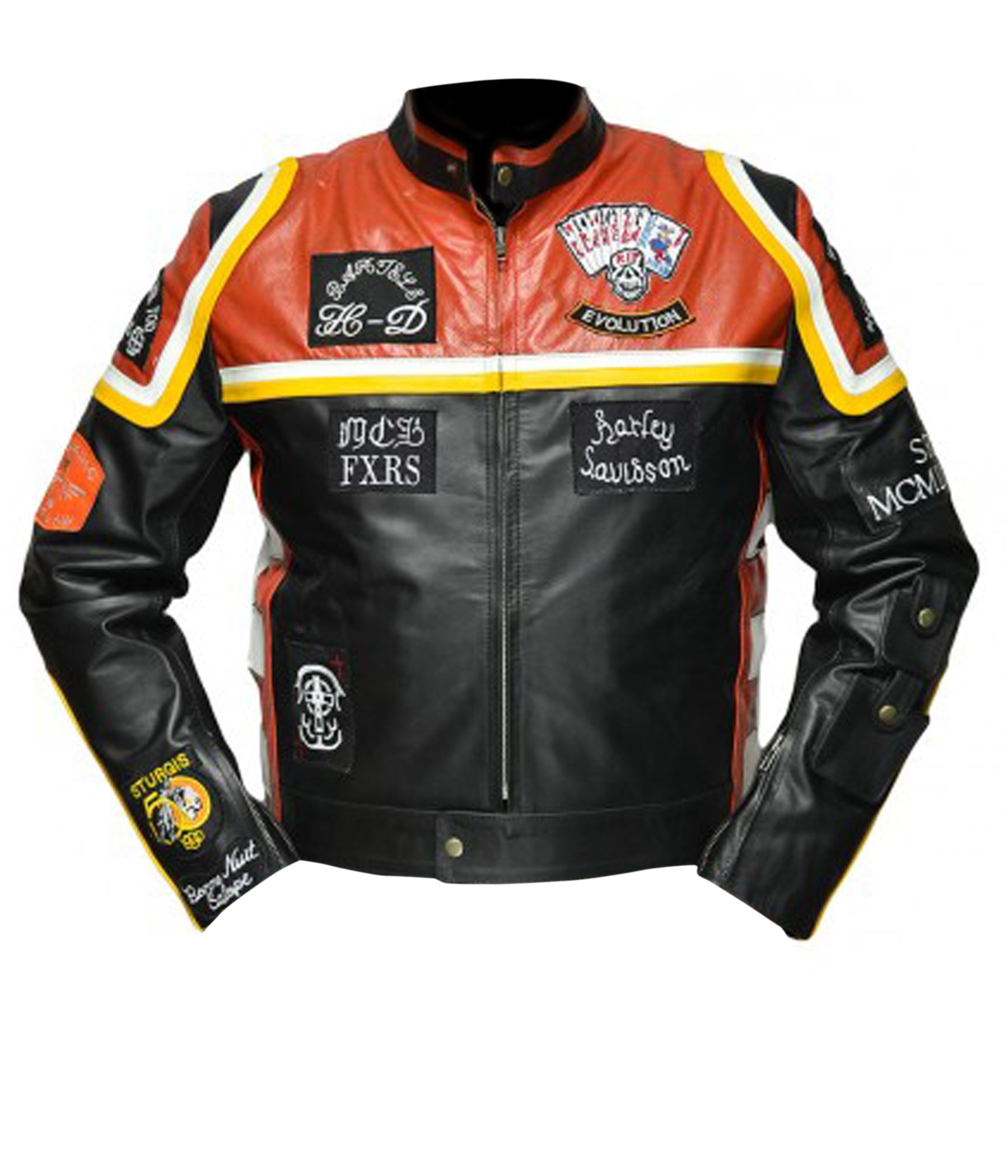 Harley Davidson Marlboro Jacket
The uniqueness about the Biker Marlboro leather jacket is the distinctive contrast of the four controversial colors ' black, orange, yellow and white," blended so sequentially in the jacket. That will enhance your personality and portray your alpha-male gaze while making you a noticeable persona. Black Biker Jacket is an increased biker's personality that has more good looks.
Embezzlements on the jacket showcasing Harley Davidson name and FXRS bike and other classy embroidery blend add more value to this vintage-styled Marlboro Leather Jacket.