A Discovery Of Witches Outfits
 A DISCOVERY OF WITCHES MERCHANDIES
Genuine leather is glad to have been able to service our customers for such a long time. We are committed to providing total client satisfaction. Our team used the highest quality materials to create the product. We've previously sold merchandise featuring your favorite celebrities, films, and television shows. The collection of A Discovery of Witches Outfits is also top-listed to accentuate your personality on every stroll, as the series has received a wonderful response from the audience.
A DISCOVERY OF WITCHES Plot
.
Do you want to learn more about witches and their fascinating stories? Then A Discovery Of Witches, a British fantasy television series, is ideal for you. Kate Bishop, a historian, and a hesitant witch is thrust into the spotlight when she comes upon an enchanted document at Oxford's Bodleian Library. As a result, she was hesitant to enter the magical world and learn about the secrets that lie beneath magical beings. Matthew Clairmont, a mysterious geneticist, and a vampire receive assistance from Kate Clairmont. Despite their long-standing distrust, witches and vampires ally and collaborate to protect the book and unravel its mysteries while avoiding attacks from the monster world. The series has gotten a lot of positive feedback from the audience.
The collection of A Discovery of Witches Outfits is also top-listed to accentuate your personality on every stroll, as the series has received a wonderful response from the audience. 
Let's take a quick look at the A Discovery of Witches cast
The most expected British fantasy series featured the world's most recognized celebrities, resulting in the decade's most astounding success. Matthew Clairmont is played by English actor Matthew Goode, Marcus Whitmore is played by English actor Edward Bluemel, Peter Knox is played by Welsh actor Owen Teale, and Gerbert d'Aurillac is played by English television actor Trevor Eve. The series also featured the most beautiful and talented actresses, including Teresa Palmer, an Australian starlet, model, and producer, as Diana Bishop, Louise Brealey, an English actress, writer, and journo, as Gillian Chamberlain, Aiysha Hart, a British actress, as Miriam Shephard, and Alex Kingston, an English actress, as Sarah Bishop, and many others, to win the votes of audiences.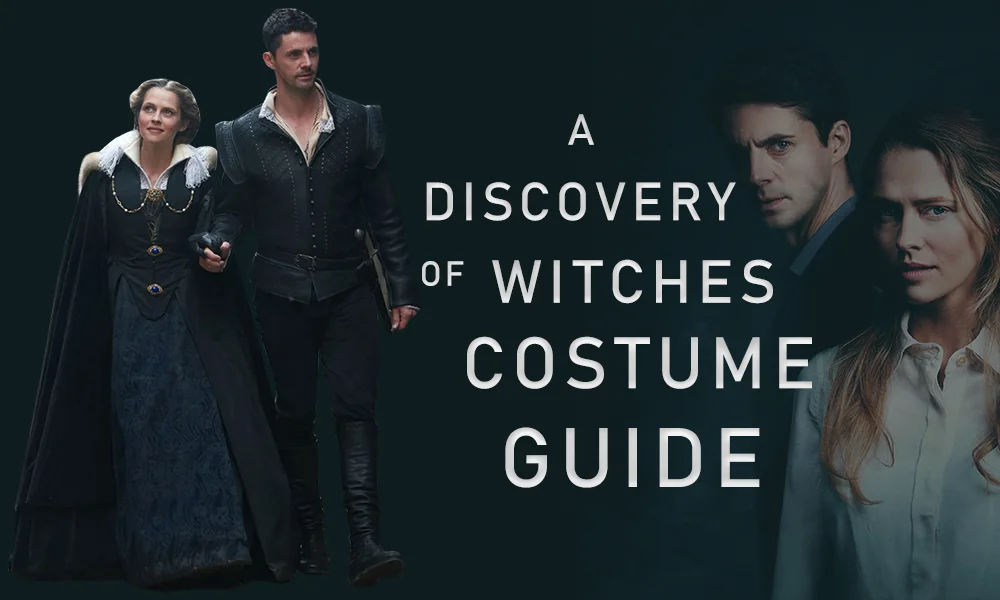 All You Need To Know About A Witches Outfits Revelation:
Everything about the show is fantastical, which makes it a must-see! The directing, story, set, characterization, and visuals, as well as the characters' clothing throughout the series, are all excellent. Yes, the outfits from A Discovery of Witches Collection are both terrifying and elegant. It would be a privilege to wear these garments.
Here's a little something for all the fans of the series A Discovery of Witches. The A Discovery of Witches Outfits section has a large range of jackets and coats worn by the series' protagonists all through the series. All you have to do now is get your hands on these ensembles, and you'll be sporting the timeless look that has inspired you since 2018.
Take a look at A Discovery of Witches Outfits to get started with the category of A Discovery of Witches Outfits. Coat of Diana Bishop. This coat is composed of a wool blend fabric and is lined on the inside with a comfortable viscose lining. It has a lapel neck, a front open style clasp, long sleeves, and two interior pockets. The light blue color is both relaxing and attractive. Then there's A Witches' Discovery. Another classic that every woman would love to acquire is the Juliette Durand Leather Coat. The coat is made of genuine leather and has a soft viscose lining on the inside for added comfort and design.
Moving ahead, there is a fantastic assortment of males in this category. A Discovery of Witches is at the top of the list. We have a Matthew Clairmont Leather Jacket. It has a standing-style collar, front buttoned fastening with a belted strap, and fine stitching and is constructed of genuine leather.
You will eventually judge what you wear on daily walks or in casual situations, whether you are a witch or a superhuman entity. We are glad to report that the broad category of A Discovery Of Witches Merchandise has completely covered the void of attractive attires.
Frequently Asked Question
Was the Witches' Discovery suspended?
As a result, Diana and Matthew's adventures will come to an end with season three, as the show has been canceled. However, the cast has discussed whether they would return for any potential spin-off series — providing, of course, that Sky TV and Deborah Harkness were interested in producing it.
Is there a Netflix show about witches?
Unfortunately, A Discovery of Witches is not available on Netflix or HBO Max. Season 3 of A Discovery of Witches is only available in the United States on Sundance Now, Shudder, or AMC+.
Is A Discovery of Witches worth watching?
A Discovery of Witches is an excellent edition in the gothic horror genre, from its bold narrative and gorgeous cinematography to its production value.
Why does Diana Bishop always seem to be dressed in blue?
So the blue Diana wore on the TV program appears to be symbolic of her authority, which may include all of the virtues associated with that color, such as the "truth, loyalty, trust, and knowledge" that you mention @unicorns-they-were-unicorns.
Why did they take Baldwin's position in the witch hunt?
Recasting. Trystan Gravelle was unable to remain in the position after Season 2 due to scheduling issues. In Season 3, it was revealed that Peter McDonald will portray the part.
Will Hulu show the discovery of witches?
In addition, A Discovery of Witches is now unavailable on Hulu in the United States. While individuals who rely on their Netflix subscription to watch series or movies may be disappointed, there are plenty of alternative ways to watch the first season of A Discovery of Witches.
Is the discovery of witches scary?
This is the fantasy show where murder, desire, and grotesquery are treated as faux pas to be avoided at all costs. It isn't humorous, erotic, or frightening not because it can't do them, but because it refuses to try. It also does not believe that imagination should serve as a portal anywhere. 07-Jan-2022
Is A Discovery of Witches a dull series?
It's quite disappointing to see "A Discovery of Witches" regarded as competent fiction. This story is a contender for the worst book of 2011. It has boring characters, uninteresting descriptions, and pages and pages of nothing occurring.