Women's Blazers Collections
Understanding women is difficult, but they didn't tell us that getting their fashion sense is more of a hectic task. But genuine leather thinks that we have got the missing piece in the fashionable puzzle. After the ultimate success of the women's leather jackets collection, which our divas loved the most, we have launched a new women's blazer collection.
We think blazers are not just a clothing item for men's closets but also a sensation for a women's wardrobe who like to grow and keep on moving forward into the modern corporate world.      
History of blazers leading them into women's wardrobe   
Women have worn suits for centuries. When actress Sarah Bernhardt sported a customized trouser suit for a colored portrait in the 1870s, she provoked a raging debate. 
By the twentieth century, women had adopted fashion and began wearing long skirts with tailored coats. Women's suits, on the other contrary, did not gain acceptance in the fashion industry until Coco Chanel developed a trimmed jacket and matching ankle-length skirt in 1914. 
In 1964, André Courrèges designed the first pantsuit that laid the groundwork for today's blazer. Women used to keep their pants for casual, private occasions. Blazers were redesigned in numerous colors, designs, and designs as the pantsuit became more and more popular in the 1980s, thanks to movies like Working Girl and Baby Boomer. 
When the 1990s and 2000s arrived, many daring trendsetters ditched the matching bottoms and matched their jacket with something unexpected, transforming them into the "third component" of separates-based outfits.
In recent years, the style has become more common for women to wear blazers, contrast-colored pencil skirts, or sometimes the whole suit to conquer the corporate world with their dazzling office glance and lavish personality.  
Women's Blazer Collection 
The Genuine Leather's women's blazer collection has iconic outwear that will enhance your formal glance. Moreover, it elevates your peppery persona. 
Our collection includes outfits imitated by distinctive renowned movies and exciting TV series. Nonetheless, we have outfits from your beloved celebrities' wardrobes as well. 
Our Must-Have Women Blazers 
Our collection has many staple kinds of outwear for your blinding wardrobe. However, we want you to notice some of our apparel that holds a precious spot in our collection. Moreover, they represent a magical story behind their elegant design.    
Emily's blazer details many accents, such as how uniquely lively green, white, and black are blended within sequential patterns. On top of that, these disputed colors overlap without emerging with each other. A creative mixture of colors makes it worth spending money on and is undoubtedly a staple in the closet.
Annie Mouradian's elegant blazer is a staple in the corporate wardrobe. The elegant, classy grey color adds value to the fashionable attributes. Moreover, the double-breasted look makes it a perfect formal attire to slay your important meetings. The rough texture, along with the black shade within, is what makes it unique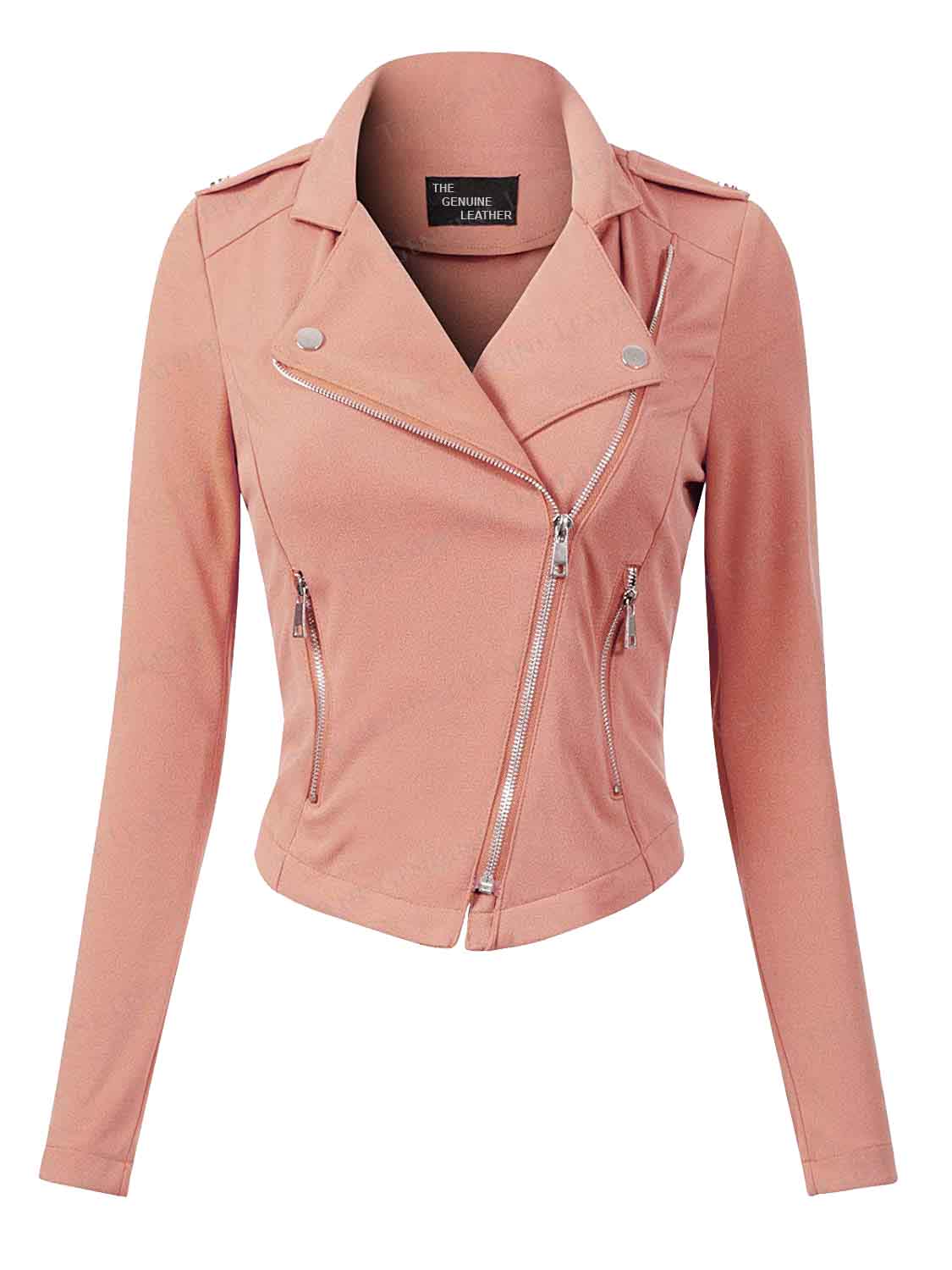 Blazer is the most demanded outfit from our fashion divas. Come on, who doesn't want an outfit that has both a blazer and a leather jacket entails. Undoubtedly a dreamy outfit for women's leather jacket collection. Light pinkish color alongside lapel style collar enhances it as a heavenly outfit. 
Camille's military blazer is ignored when we talk about the most elegant blazers. A creative apparel craft with an angelic essence. This blazer brings back the military trend into our fashion industry. Dazzling lining throughout the jacket with a contrasting color and badge kind buttons is what makes it distinctive.
Frequently Asked Question
How do ladies wear blazers?
Dress up an otherwise casual look with a blazer and jeans. For a business casual office look, pair your blazer with white or dark pants.
Wear your blazer both up and down.

Linen blazers are perfect for summer.
What are the best shirts to pair with blazers?
Tops with no sleeves. My clients prefer sleeveless shirts, such as basic shell tops, since they are more comfortable and appear less heavy on the blazer's arms.
Turtlenecks are a great way to dress up a simple outfit.

Pullovers that are light and airy…

Shirts, shirts, shirts, shirts, shirts, shirts,

Blouses are a great way to dress up a simple outfit.

T-shirts are a type of clothing that is worn on a regular basis.
Tops with peplums…

Camisoles with a feminine touch.
Are the Blazers still in style 2022?
Pants, dresses, skirts, and, of course, blazers are all in great demand for fall/winter 2021, with leather and synthetic leather having a significant moment.
What are the different types of blazers?
Here are some examples of blazers that may be styled as layers:
Blazer made of leather. Every lady should own a 
leather blazer 

Cape Blazer 

Colorful Blazer 

Printed Blazer 

Waterfall Blazer 

Lace Blazer 

Peplum Blazer

Denim Blazer
What distinguishes a blazer from a suit?
Patterns, buttons, and fabric make the distinction between a sport coat, blazer, and suit coat. A blazer is a jacket with contrasting (typically metal) buttons in a solid hue. A suit coat also comes with a pair of pants in the same fabric/pattern as the coat.
Is a blazer considered formal or casual?
To be precise. Suit jackets and blazers come in a variety of styles. Suit jackets, on the other hand, are more official, whilst blazers are more informal.
What is the ideal length for a women's blazer?
A typical blazer is around your hipbone in length. They are generally flattering on most body types. Longer and shorter blazer lengths can both be stylish, depending on your own tastes, where you'll be wearing the look, current trends, and your body type.