HISTORY OF BIKER JACKETS
Biker Jacket, also known as Motorcycle Leather Jackets, has a rich history that dates back to the early 20th century. The first leather motorcycle jacket was designed in the 1920s by the American company, Schott NYC. The jacket was originally designed for Harley-Davidson riders, who needed protection from the elements and the road.
During World War II, leather jackets became popular among pilots as they provided protection against the cold at high altitudes. After the war, soldiers returned home and brought their leather jackets with them, which helped to popularize them among the general population.
In the 1950s, Men's Biker Leather Jacket became synonymous with rebelliousness and anti-establishment attitudes, thanks to their association with motorcycle gangs. Movies like "The Wild One" starring Marlon Brando further popularized the biker jacket as a symbol of non-conformity and rebellion.
Throughout the decades, Black Motorcycle Jacket have remained a popular fashion choice for both men and women, evolving in style and design to suit changing trends. Today, they are a staple of both the fashion and motorcycle communities and are beloved for their durability, functionality, and timeless cool factor.
WHAT ARE THE BENEFITS OF BIKER JACKETS
There are several benefits of wearing a biker jacket, including:
Protection: Moto Biker Leather Jackets are typically made of high-quality leather or other durable materials that offer excellent protection against abrasion, cuts, and impact. This is especially important for motorcyclists who may be involved in accidents or collisions.
Comfort: Many biker jackets are designed with features that enhance comfort, such as ventilation panels, moisture-wicking linings, and adjustable cuffs and collars. These features can help keep you cool and dry and prevent chafing or discomfort during long rides.
Style: Biker jackets have a timeless and classic look that never goes out of style. They are often associated with rebellion, freedom, and a sense of adventure, making them a popular fashion choice for people of all ages and backgrounds.
Versatility: Biker jackets can be worn in a variety of settings, from casual outings to formal occasions. They can be dressed up or down depending on the occasion and can be paired with a wide range of clothing styles.
Durability: Biker jackets are built to last, and can withstand years of wear and tear without losing their shape or style. With proper care and maintenance, a good quality biker jacket can last a lifetime.
Overall, a biker jacket is a stylish and practical investment that can offer both protection and style for years to come.
HOW TO ENRICH THE STYLE OF A BIKER JACKET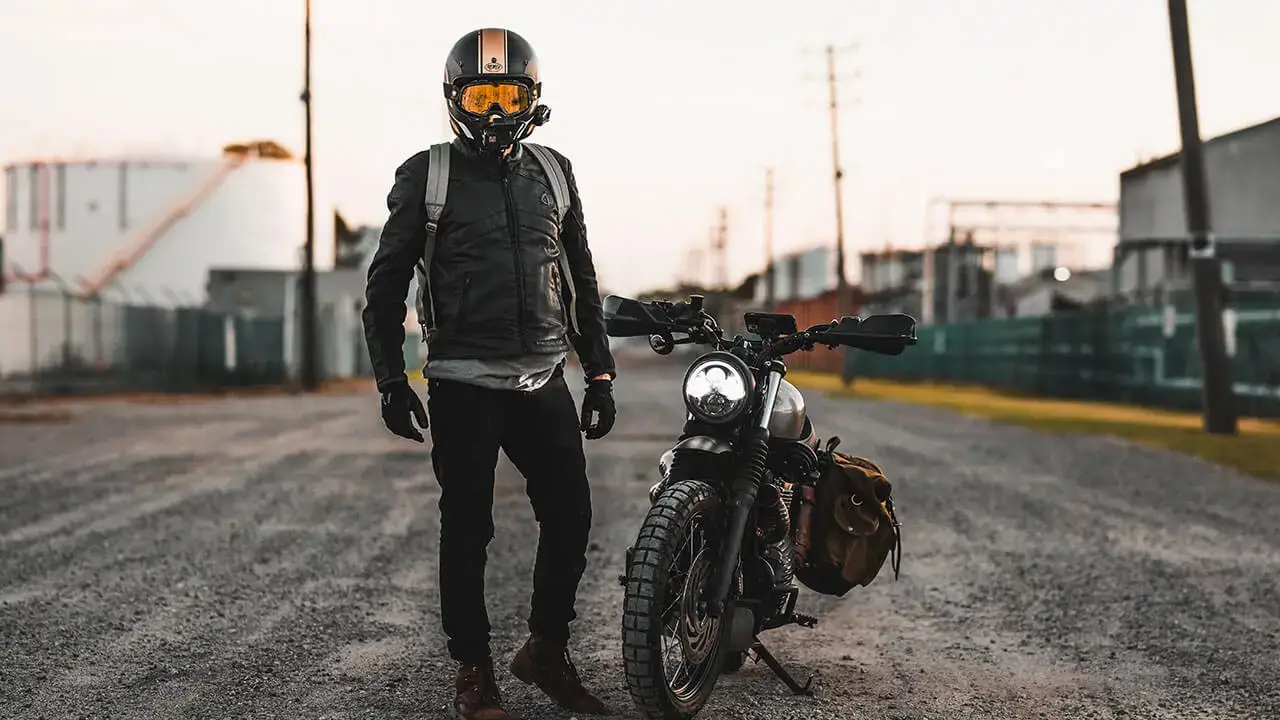 Our site can show many ways to enhance the style of a biker jacket:
Accessorize: Consider adding accessories like a scarf or a statement necklace to complement your biker jacket. You can also wear a belt to cinch the waist for a more fitted look.
Layering: Layering is a great way to add depth to your outfit and make your biker jacket stand out. Pair it with a simple t-shirt or a sweater for a casual look, or layer it over a dress or a blouse for a more formal look.
Colour Coordination: Choose colours that complement the colour of your jacket. For example, a black biker jacket can be paired with neutral colours like white or grey, or you can add a pop of color with a bold shirt or pants.
Play with textures: Biker jackets are typically made of leather, which has a unique texture. You can play with different textures by adding items like a knit scarf or suede boots to create a contrast.
Experiment with different styles: Biker jackets come in a variety of styles, including cropped, fitted, and oversized. Experiment with different styles to find one that suits your personal style and complements your body type.
By incorporating these tips into your outfit, you can enhance the style of your biker jacket and create a unique and personalized look.
DIFFERENT TYPES OF BIKER JACKETS
At The Genuine Leather store, there are several types of Biker Jackets For  Women available, each with its own unique style and features. Here are some of the most common types of biker jackets:
Classic Biker Jacket: This is the original biker jacket design, featuring a cropped length, asymmetrical zipper, and wide lapels. It's typically made of leather and may include metal hardware like studs and zippers.
Bomber Jacket: Also known as a flight jacket, the bomber jacket is a classic style that features a ribbed collar, cuffs, and waistband. It's typically made of leather or nylon and has a more relaxed fit than the classic biker jacket.
Cafe Racer Jacket: This style features a more streamlined design, with a band collar, zippered cuffs, and minimal hardware. It's typically made of leather and has a slim, fitted silhouette. One of our in-stock epic cafe racer jackets is Men's Brown Cafe Racer Jacket. 
Racing Jacket: Designed for high-speed riding, racing jackets feature a streamlined design and lightweight construction. They often have perforated panels for ventilation and stretch panels for ease of movement. If you are looking for a bike racing jacket then this Harley Davidson Marlboro Jacket is a perfect choice for you. 
Textile Jacket: While most biker jackets are made of leather, textile jackets are also available. They are typically made of durable, water-resistant materials like nylon or polyester and may include features like ventilation panels and reflective accents.
Denim Jacket: A denim biker jacket is a casual, lightweight option that's perfect for warmer weather. It's typically made of denim and may include metal hardware like zippers and studs.
These are just a few examples of the many types of biker jackets available. Each style offers its own unique features and benefits, so it's important to choose a style that fits your personal style and riding needs.
WOMEN'S BIKER JACKETS
We are very well aware of the Men's Biker Jacket history and what kind of jackets do the studs put on before switching on the engines of their motorcycles. Let's take a sneak peek into the history of women's biker jackets and the beginning of the lady's biker era. 
Women's biker jackets have been a fashion staple for many years, often associated with the rebellious spirit of the biker culture. However, over time, the biker jacket has become a versatile and stylish piece of clothing that can be worn by anyone, regardless of their personal style.
Women's biker jackets come in a variety of styles, colors, and materials, making it easy to find one that suits your taste. The classic biker jacket is made of leather, but you can also find jackets made of suede, denim, or even faux leather. These jackets are typically adorned with metal hardware, such as zippers, studs, and buckles, which add to the edgy look of the jacket.
One of the reasons why women's biker jackets have become so popular is their versatility. They can be worn with a variety of outfits and styles. For example, you can pair a black leather biker jacket with skinny jeans and ankle boots for a classic, edgy look. Or, you can wear a denim biker jacket with a flowy maxi dress for a more bohemian vibe.
Another reason why biker jackets are so popular among women is that they are incredibly durable and long-lasting. A well-made biker jacket can last for years and will only get better with age as the leather softens and develops a beautiful patina.
In recent years, there has been a growing trend towards more sustainable and ethical fashion, and many brands are now creating biker jackets made from recycled materials or using ethical production methods. This means that women can feel good about their purchases while still looking stylish and edgy.
NOW LET'S SEE HOW CAN YOU WEAR A BIKER JACKET
Now here is the moment that the whole blog is about our online apparel store The Genuine Leather is here to show you some trendy and perfect ways to wear a biker jacket with style:
Choose the right fit: A biker jacket should fit snugly to your body, but not be too tight. Make sure you can move your arms comfortably and that the jacket sits just above your hips.
Pair with basics: A biker jacket looks great with basic pieces like jeans, a white tee, and ankle boots. Keep it simple and let the jacket be the statement piece.
Dress it up: You can also dress up a biker jacket by pairing it with a dress or skirt. A feminine dress can balance out the edginess of the jacket.
Experiment with colors and textures: Biker jackets come in a variety of colors and textures, so don't be afraid to experiment. A black leather jacket is classic, but you can also try a suede or colored leather jacket.
Accessorize: Finish off your look with accessories like a statement necklace or a scarf. You can also add a hat or sunglasses for an extra touch of cool.
Remember, a biker jacket is a versatile piece that can be dressed up or down. Have fun experimenting with different looks and find the style that works best for you.