Harley Davidson Marlboro Jacket
Write a review | Ask a Questions
Shipping:

Free Shipping WorldWide

Returns:

30 Day Easy Returns

Availability:

In Stock
Specification:
Material: 100% Genuine Leather
Internal: Soft Viscose Lining
Collar: Straight Style Collar
Closure: Zipper Closure

The Genuine Leather Customers Gallery
The Genuine Leather
Customers Gallery :
We have over 5000 plus satisfied customers, who have been buying all kinds of jackets from our site be the part of TheGenuineleather customers gallery.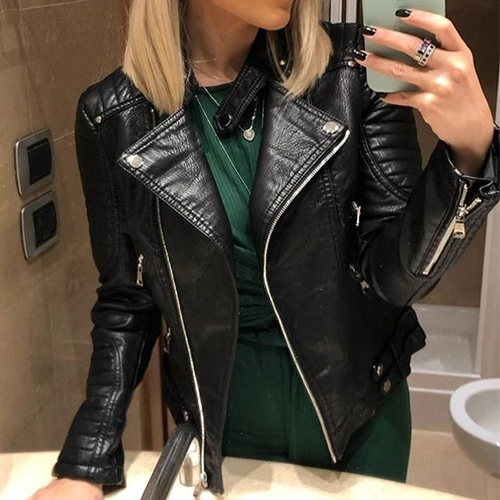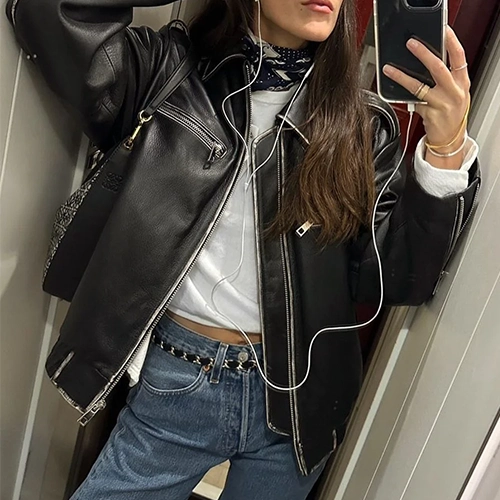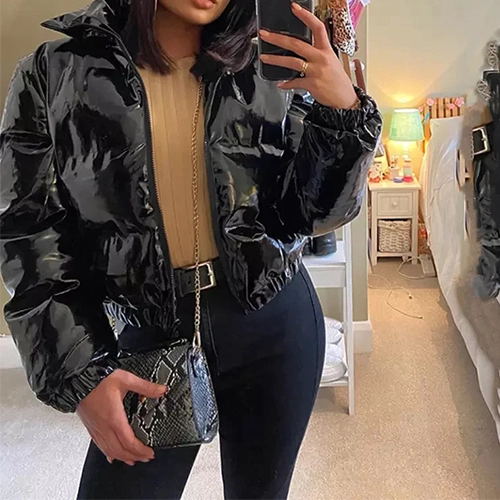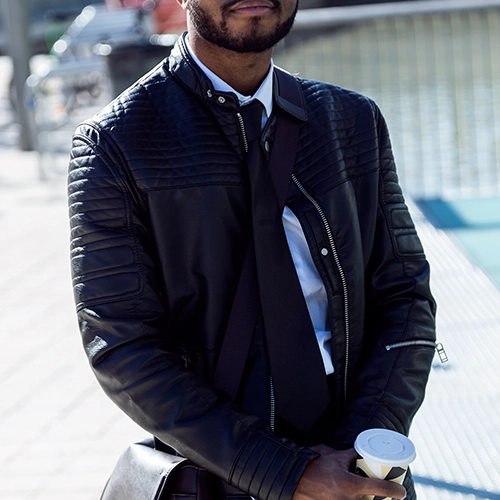 SKU:

TGL-2161
Categories: Best Jackets, Best Selling, Biker Jackets, Celebrity Jackets, Harley Davidson Jackets, Men, Men Leather Jacket, Mens Cafe Racer Jackets, Mens Motorcycle Jacket, New Arrivals, Top Ten Men's Jackets, Winter Jackets
Tags: Black Leather Jacket, Black Mens Leather Jacket, Harley Davidson, Marlboro Man, Marlboro Mans Jacket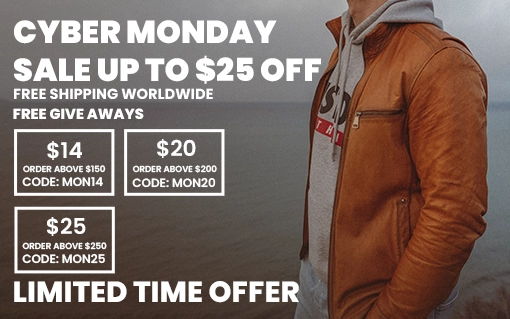 Men's Harley Davidson Biker Marlboro Leather Jacket
The Genuine Leather exclusively presents you with the stunning jacket from their Leather Jacket Collection. "Harley Davidson Marlboro man leather jacket." The idea of this classy jacket is from a Hollywood movie based on Harley Davidson.
Harley Davidson Marlboro Leather Jacket & Man leather motorcycle jacket is an ideal biker jacket for all the bike raiders due to padded viscose lining on the inside quilt with skin-friendly material acts as a protection against physical injuries.
Marlboro Man Leather Jacket is a craft with premium quality genuine leather that throws out a lavish gaze. A stand-up collar and a zipper closure with a buttoned waist are the classy entails that enhance the smart-casual look of the leather jacket. Moreover, zippered cuffs are the cherry on the cake.
The uniqueness about the Biker Marlboro Leather Jacket is the distinctive contrast of the four controversial colors ' black, orange, yellow and white," blended so sequentially in the jacket. That will enhance your personality and portray your alpha-male gaze while making you a noticeable persona. Black Biker Jacket is an increased bikers Personality that has more good looks.
Embezzlements on the jacket showcasing Harley Davidson name and FXRS bike and other classy embroidery blend add more value to this vintage-styled Marlboro Leather Jacket.
Although the jacket is an exceptional art in a men's collection, we have a bunch of more designs with lively colors and sexy entails in our café racer jacket collection, and they will surely impress your adventurous soul.
The Genuine Leather store brings another Harley Davidson Outfit and Men Harley Davidson Bomber Jacket. This Leather Marlboro Jacket has been made of real quality leather and has a stylish Straight Style Collar.
Harley Davidson
Harley-Davidson, Inc., or simply Harley, is an American motorcycle manufacturer founded in 1903 in Milwaukee, Wisconsin. A prominent American motorcycle manufacturer, along with Indian. 
The company has survived numerous ownership arrangements, subsidiary arrangements, poor economic health, poor product quality, and intense global competition to become one of the world's largest motorcycle producers and an iconic brand widely known for its loyal following. 
Chopper motorcycles derive their style from Harley-Davidson's style of customization. Although the company initially focused on air-cooled, heavyweight cruiser motorcycles with engine displacements greater than 700 cc, its offerings now include middle-weight Street (2015) and VRSC (2002) platforms.
Harley Davidson is stylishly embezzled with distinctive designs, and each design represents a unique story of history.  
The 1982 FXR and FXRS Super Glide II models were sold alongside the existing FX models. Solid black paint and lacquered wheels were standard on the FXR. The FXRS featured two-tone paint, mag wheels, and a backrest.
FXRS
The 1982 FXR and FXRS Super Glide II models were sold alongside the existing FX models. Solid black paint and lacquered wheels were standard on the FXR. The FXRS featured two-tone paint, mag wheels, and a backrest.
Essentially, the FXR chassis was an FLT Tour Glide chassis with larger frame tubes and a more conventional steering head. It featured an engine with a rubber mount and a five-speed transmission instead of a four-speed transmission and solid mount of the original FX chassis.
STURGIS
In the first year of the Sturgis model – only 3543 were built. There is a bike rally held every year in Sturgis, South Dakota, which is the inspiration behind the 1981 Harley-Davidson FXB Sturgis. The Sturgis proved to be a prevalent model, mainly black with touches of orange and chrome.
EVOLUTION
Evolution engines (often referred to as Evos) are air-cooled, 45-degree V-twin engines developed by Harley-Davidson in motorcycles after 1984. This engine was made in the 1,340 cc (82 cu in) displacement for Harley-Davidson's Big V-twins and replaced the Shovelhead until 2000, when the last EVO was built into Harley's production custom FXR4 (the FXR2 and FXR3 were the first CVOs). It was replaced by the Harley-Davidson Twin Cam 88 in the Touring and Dyna models in 1999 and the Softail models in 2000.
SRV-MCMLVI-XC
On Harley's Marlboro Leather Jacket, the left sleeve has the initials "SRV" above the Roman numerals "MCMLVI-XC." Stevie Ray Vaughan 1956-90, though he was born in 1954.
BONNE NUIT SALOPE
Bonne Nuit Salope represents the french language, and it means good night. 
IRA Secret Patch
IRA Secret Patch Mickey wore this due to his Irish ties. During the movie, this patch appears on the jacket. This patch can be found on the lower right-hand panel of the famous Harley Davidson and the Marlboro Man movie Jacket.
Wizard Patch
Wizard patch is used on Harley Davidson Marlboro man jacket to jazz up the thundery glance. A thundery patch is a symbol of a movie that enhances the wearer's look in the movie. 
Schwarzer Tod
Schwarzer Tod is a german word that represents a drastic event that occurred Between 1346 and 1353. The bubonic plague pandemic ravaged afro-Eurasia. 75–200 million people died during this pandemic, which peaked in Europe between 1347 and 1351.
You may also like