Women's Purple Leather Jacket
The Genuine Leather Store offers an amazing Women's Purple Leather Jacket made from real quality leather. We all opt for fashionable things and this pick of ours is an evident example of fashion.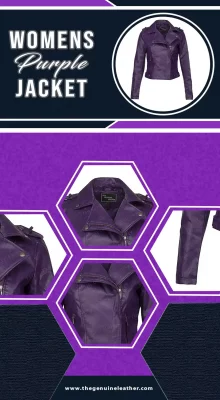 Women's purple leather jacket stands out in the queue not just because of its vibrant, soothing color but also because of the standard it attains.
The Women Purple leather Jacket is super cool for its makeup is from genuine quality leather with metal zippers. All you want is to try matching up your other outfits to look dapper any day of your choice. All you can add up is some sensational auxiliary dress charms and you be all ready to rock. All sound and secure.
Women Purple Jacket is available in a number of styles pulling you with new vibes each time. Hue matters and so does the contrast. The main contrast can lead you towards the specific tolerable sensations just with a product.
All intended to bring about commercial success and will help you look professional in your favorite meeting exposure the next day.