BROWN LEATHER JACKETS
The Genuine Leather brings Brown Leather Jackets at low prices with premium leather. We have a vast range of brown jackets like tan brown, light brown, dark brown, chocolate brown, beige color, and much more in brown tones for men and women.
Men's Brown Leather Jacket
Is it accurate to say that Leather Jacket Brown was the first one as the iconic symbol in Men's fashion? Yes, a brown leather-look jacket is back ago to a century when this code of outfit found its way into our prosperous styling industry, This was the choice of perfect insulation. Initially, rustic brown jackets had been manufactured to serve soldiers in cold weather and protect them against abrasions and resistance. Eventually, after going through a series of war events, This Brown Leather Jacket became part of our day-to-day life wardrobe. Let's consider some events and places where and how you can style a brown jacket made with real leather, faux leather, and PU leather.
Street Style Leather Jackets in Brown Shade
The Genuine Leather rounded up your favourite street style brown leather men's coats and jackets for the edgier gals and flippant boys.
Who says you can't wear leather all year long? Choose from our awesome brown outfit ideas, from vintage styles to earthy tones. You'll be drooling over all these leather outfit inspirations! We've also included faux leather street-style brown jackets for you vegan gals!
These nonformal brown men's leather jackets for women's and men's street style look we've curated for you today will certainly appeal to you if you're like us and love wearing casuals.
Office or Formal Wear Brown Leather Jackets
We all secretly wish that we could wear fashionable clothes to work, but most fashionable clothes are either too casual or inappropriate for the workplace.
Our Genuine Leather store suggests that some CEOs, directors, and other office staff are now wearing brown jacket leather outfits with confidence.
You can elevate your office look by wearing a Formal Style Brown Leather Jacket. It only takes a nice light-toned tie, a matching white shirt inside, and some extra attitude to make an entrance.
Brown Leather Jackets For Bikers
Bikers and Motorcyclists today have a great variety and endless options to choose from when it comes to brown
biker jackets
. Available in many different colours, styles, and designs to suit various individuals on their tracks. 
Brown Motorcycle Leather Jacket
This calls into question whether brown leather jackets men are truly in style. However, A large number of people prefer a
black jacket because it is the trendiest option. But a brown jacket Leather is the most powerful and attractive counterpart. I am not degrading black jackets and don't want to get into a dispute, but I am going to showcase the cool brown biker leather jackets for the riders who want to conquer in style.
Brown Tone Outfits – One Of The Best Iconic Attire
If you are looking for an attire that can serve you well in both casual and formal formats, this is the choice. Men's Brown Leather Jacket will surely go on with your best-looking formal shirt or the relaxed crewneck T-shirt. Without a scratch, it can fulfil your dream of looking edgy in your enigma. Also, you can top off your casual look with the hooded fur collar brown aviator jacket if you are willing to counter the cold weather. We have a wide range of varieties in brown and other tones available just for you, from straight to fur neck collars. So, don't forget to check them out!
How to choose different shades of brown leather jackets?
When we were talking about the Black Leather Jacket. We know there isn't much variation in the colour shades, except in Jet black, light, and greyish Black. But in the case of the Brown jacket leather Men's, the variation has a separate word for itself to define. There are many options available to choose from, light to dark. So, let us highlight some of the most vintage shades for you so that you can choose!
Light Brown Leather Jacket
Most people prefer light colors to wear in spring and late winter. Therefore, they opt to choose it as they can counter the essential style by keeping them comfy and without any compromise on the style. Combine light-dark colour jeans to match the needs of the fashion.
In our store, you can find some of the best light brown leather jackets for men.
Edinburgh Brown Leather Jacket
Light brown shearling leather jacket
Mens Bomber Tan Brown Leather Jacket
Leather Dark Brown Jacket
Dark brown color jackets have their own level of vibes and possess a different story to highlight. It can be any time of the year when you can pull on a dark brown leather jacket. But we recommend pulling it for the winter or Autumn. Combine the minimalistic look, and thank us later for providing you with the best collection of amazing affordable jackets.
Mens Motorcycle Shearling Leather Jacket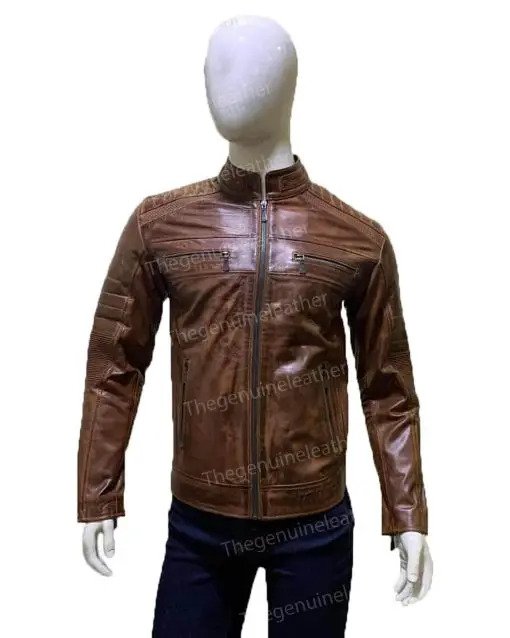 Tan is for those who want something more distressed and rough in their outer layer. It doesn't matter if you plan to go formal; just pick a nice-looking collar shirt. And you have already made your day a fashion sensation.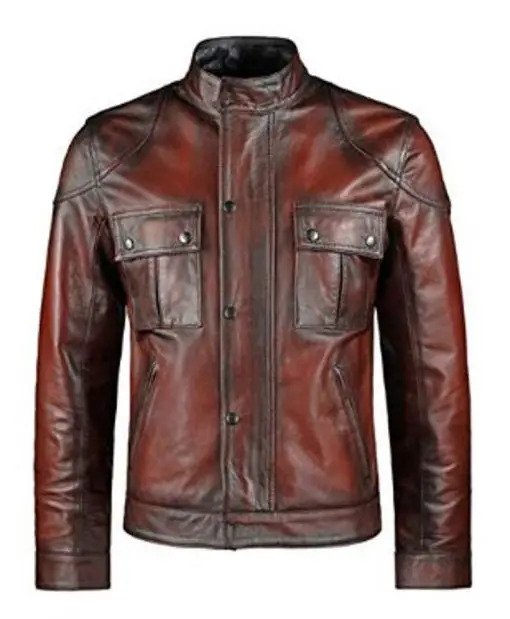 Mens Cafe Racer Distressed Red Leather Jacket
Mens Antique Brown Shirt Style Jacket
Mens Aviator Flight Bketomber Jac
Something to change your mood
Now let us present you with some of the best options to spin off your personality from the typical. These combinations will assuredly be a go-on-go choice for the mates like you!
Specially Designed: Chocolate Brown Leather Jacket
When you eat a piece of chocolate, you have to think about your outfit too. What? About an outfit.
Yes, you have to show your love for chocolates with your outfit too. Your outfit should be in a chocolate brown colour, fabricated with robust leather. That can be rinsed off easily when you get a stain of chocolate due to your unconsciousness in chocolate world fantasy.
Here at The Genuine Leather, you will find some amazing and totally unique apparel in different shades of brown color. Among all, Chocolate Brown Leather Jackets have their unique aura.
The Genuine Leather's Men Chocolate Brown Leather Jacket and Women's Chocolate Leather Jacket fulfil your all amazing desires at a pocket-friendly price.
Frequently Asked Questions
Are brown color jackets in style?
Anything can be in style, as long as you have your own interest in that thing. Talking about a brown leather jacket, we know there is nothing that can beat its immorality. It is in style for centuries, and it will be as long as true leather lovers are alive. You wear it with any slim-fit jeans, long boots, sweater, or handbag.
What colors go with a brown jacket?
The colour you can feel is truly connected with your heart and can go well with a brown leather jacket. It can be grey, white or black that can lift the essential courage of your style. But we recommend pairing black for a more sophisticated look.
Where to buy a brown leather jacket?
Brown leather jackets can be found in any fashion retail or online store, but if you are looking for high-quality material, trendy designs, and discounted(sale) prices check out The Genuine Leather collection of brown(earthy) color jackets fabricated with leather and also available in cotton, satin, parachute, wool, faux leather, and suede leather.
Can you wear black boots with a brown leather jacket?
What if I say "No", you would pair black boots with it? I know you will! But don't worry, I was just kidding. Black boots can add an extra level of flavour to your style if you think you want to. It can add richness to your style and keep you modish forever.
Should I buy a black or brown leather jacket?
After a wholesome discussion in this blog, I don't think it is necessary to give an answer, but still, for some who are reading this FAQ section, we believe we can help them. Black and brown continue to be the top option for versatility. You can avoid coloured leather-like grey, red, or army green for your first, real, leather jacket; for now, at least. But if you think you are the one who always goes against the flow, then a brown leather jacket can be a great choice for you!
Is brown better than black?
No one can tell you this answer except you. I mean, you can discover your inner heart pockets and see which you think can be better for you. But brown leather can be as good as Black in quality and appearance if you think to buy any!
What is the best way to wear a leather brown jacket?
It can be dressed up or down depending on the occasion. Pair it with jeans and a cotton tee for a casual look or with a button-down shirt and chinos for a more formal look.
What do you wear under a brown leather jacket?
Well, you can pair any outfit you like, but if you want to want to go on the extra stylish side. Then put a nice black T-shirt or hoodie underneath it. It will surely uplift your existing style.
How do you break in a leather jacket?
You can check by wearing it for a limited amount of time if you need to know if you should break in the leather jacket. You shouldn't feel any inconvenience or tight from any spot.
Are men's brown leather bomber jackets cool?
What's cool and what is not solely depends on how you adapt the outfit. But in the basic sense. Yes, brown Bomber Jackets are some of the coolest attire to put on.
What type of jackets do you make in brown?
We at Genuine Leather Jacket made all types of Brown Leather Jackets. Our craftsmen have the ability to transform the usual things into something not common. Our brown leather jacket has specified design and quality to meet the high-end approach of our customers. So, never be afraid to try any from our leather jacket brown Collection.
What temperature you can wear a leather jacket?
We all know that a leather jacket is the outfit for winter. But no it's not true anymore. Why? Because you can easily pull out at any time of the year. It is a three-season outfit that you can try any time of the year. Most people prefer to wear it in winter or mid-springtime. But you can wear it in summer as well in the evening or at night.
How long biker jackets will last?
Your brown biker Jacket can last up to 5 to 7 years if taken care of properly and you have not decided to throw it out. Just keep the essential maintenance and you can pass the years to come in this rugged outfit.
Should you buy a size bigger jackets?
It depends on you how you like your jacket to fit you. If you want your jacket that it should be slim and adapt to the masculine shape of your body. Then you should really go with the perfect size from our size chart. On the contrary, if you are seeking a jacket to fulfil your basic needs of comfort and some basic stylish looks. Then pick one size up, and you are good to go!