Mens Motorcycle Jacket
The Genuine Leather has a vast range of Men Motorcycle Jackets. Motorcycle Leather Jackets are prepared with new stylish, sleek, and premium quality leather is used.
Motorcycle Jacket, Motorbike Rider Jackets for Men
What is the purpose of a Motorcycle Jacket?
We know you may wonder why Motorcyclists adopt this trend of wearing motorcycle jackets while riding. Simply because it is more than just a trend!
Some say riding is just about enjoying the breeze and cruising the roads. While some say riding is about taking some extra steps in your style and looking complete with trendy modes. So, which team you are in? Well, doesn't matter as we have something for everyone which we will highlight in a minute. But first, let us discuss some perks of riding with extra precautions.
Initially, we know that Motorcycle Jackets are popular because of their rugged and robust nature. The macho look of men's Motorcycle jackets depict is truly unbearable. And most important safety is always your concern while riding a motorcycle. Though few materials can serve better than leather, however, leather is ideal because of its rugged nature. And preferably, the perfect Motorcycle Jacket is a much more important component than the rider's gear.
Motorcycle Jacket as a Safety Skin?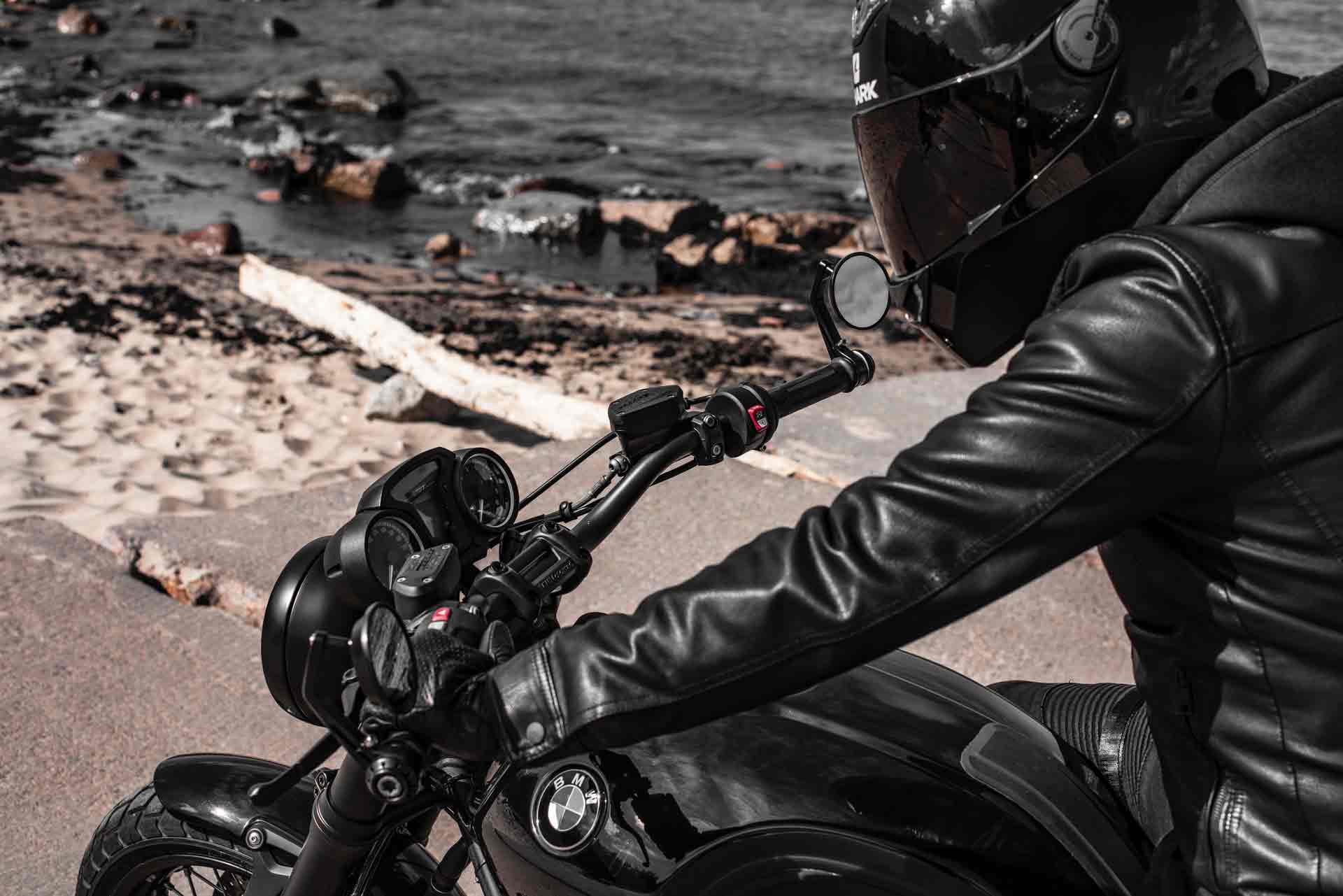 We all know safety comes first and there is no doubt about it, but what if you can look stylish by being safe? I mean there is no harm in it, right? So, that's the case when a Motorcycle jacket comes in. There are vast varieties of Motorcycle jackets serving different purposes. Some come with Padding, some come with a mesh, and some come in a leather skin. Each assortment offers a varied level of protection with a vibrant style.
The two essential gears you need to fly on your bike are a Helmet and a Leather Jacket. A helmet protects your head from severe injury, and a good motorcycle jacket protects your upper half during abrasion. Accidents can happen and no one can guarantee their specific schedule and time. We all may have experienced it once in our life if we do casual or professional riding. Though there is a chance you may not have until you are an expert above average, no one knows when the luck will twist. So, it is better to keep yourself safe. Our Motorcycle jacket can protect you during falls from injury and resistance on the asphalt. They come in a variety of styles and materials with sheepskin, cowskin, or even camel skin.
Motorcycle Jacket – A Layer of Insulation?
It is a common concept that riders keep this norm of attire due to its properties of insulation. Indeed it is true! This property helps them stay warm throughout their ride. Also, leather Motorcycle Jackets can protect them from dust and harsh environments that can be encountered in the wind. So why not seize one for yourself from our premium fabric collection?
How about riding a bike in T-shirts and chinos?
I mean anything can happen, it depends on your priority which you choose, but we have some suggestions in case you are interested. Let's say you have a new stylish bike with a matt black minimalistic helmet. And now you are planning a ride this weekend with your mates. And you chose a T-shirt and chinos for your ride simply because you want to keep yourself comfy and lightweight.  No, doubt chinos and T-shirts can keep you lightweight, but you may look like a jackass wearing them! Why?
Because first of all, T-shirts and chinos can't provide your protection against the resistance of falls and accidents. And you may end up rubbing your skin on the asphalt. Don't ask, we know that hurts way more than anything in this world. On the second you may look like a panhandler riding a Bugatti with these arms, Lol! No offense though! But still, a comparison can be made. So for this twinkling, we recommend combining a lightweight Motorcycle leather jacket to stay relaxed with your looks and modish with your style.
Check out some of these lightweight Motorcycle Jackets that are supple, delicate, and a perfect choice for your long day ride!
How to choose the perfect Motorcycle Jacket?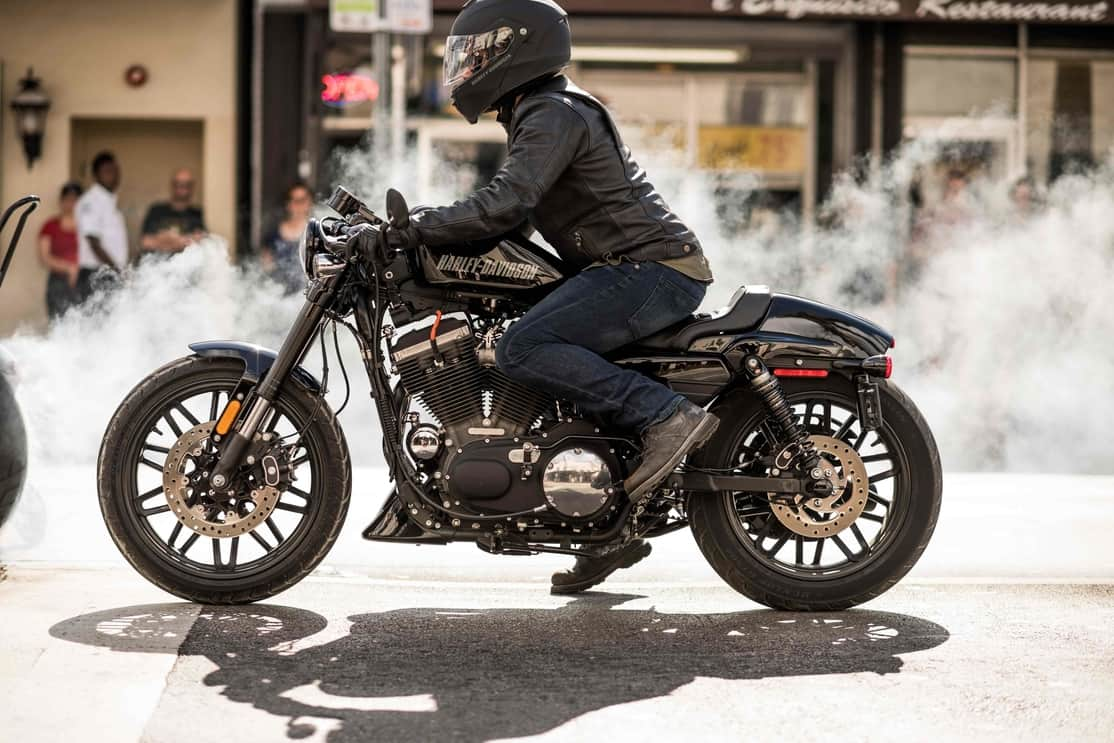 Wouldn't be great to spend a few on gear rather than heavy bills on the hospital. As we mentioned earlier that no doubt after proper training and risk evaluation you have become an expert. And it is almost impossible that you could go in an accident. But still, the risk is there, and you need a perfect Motorcycle Jacket to keep yourself safe from jocks and shocks.
So, let me highlight some of the few considerable factors that are important in choosing an ideal jacket for yourself. We are highlighting some of the basic applications of Motorcycle jackets so that you can suit the best garment for your next ride.
Combination of Bike and your Jacket
Your application for the Motorcycle Jacket depends on the model and variant of the Bike you have. Yes, you heard it right! Your particular riding style, intended riding application and the type of bike you have will decide which Motorcycle jacket you should buy.
Any thoughts on the Jacket's Material
The material of your Motorcycle Jacket is a vital pillar of your comfort and protection. Choose the material that is breathable, rugged, and can provide you with the classic appearance of leather. The material should be durable and the stitching should be robust. So, that your jacket can stand the abrasions from the asphalt during fall.
Need of Armor in the Jacket?
Armor basically consists of internal padding that provides ample protection during falls and impacts in the events of the crash. And it can be of any material as any armor is better than no armor. There are many offering different levels of impact-resistance padded material, but we recommend D30 and SAS-TEC. Armor can mostly cover the elbows, shoulders, and sometimes chest and back for better protection. So, it depends on you which type you choose according to your riding behavior for your Mens Vintage Biker Leather Jackets.
Are Armor Motorcycle Jacket hot from the inside?
As the different layers of armor are provided on the jacket, there is quite possible that the jacket can be hot inside. So, in this case, ventilation is the ideal key. When you are going to buy armored Motorcycle Jackets, you should check if there is any ventilation available or not. As you will thank yourself for choosing it in the summer.
Which color I should choose for the perfect visibility?
There is a common saying among the bikers group that says "SMIDSY". This means sorry mate I didn't see you! So, better be aware and choose a color of high visibility to avoid any unwanted collision. In the daylight when the sun is up in the sky, nothing can be better than a Black or Brown Motorcycle Jacket. And if the jacket has a sleek shiny appearance then it will be something that flourishes. However, if you are riding at night, I would not recommend wearing a black or brown Motorcycle Jacket as it will be all blackout. Especially when you are passing through an area of minimum or no light.
Now you know the basic application of Motorcycle jackets, I hope you can choose one for yourself. So, give a sight below and pick a perfect item for yourself in these Top 8 picks of Motorcycle Jackets.
Mens Black Retro Vintage Jacket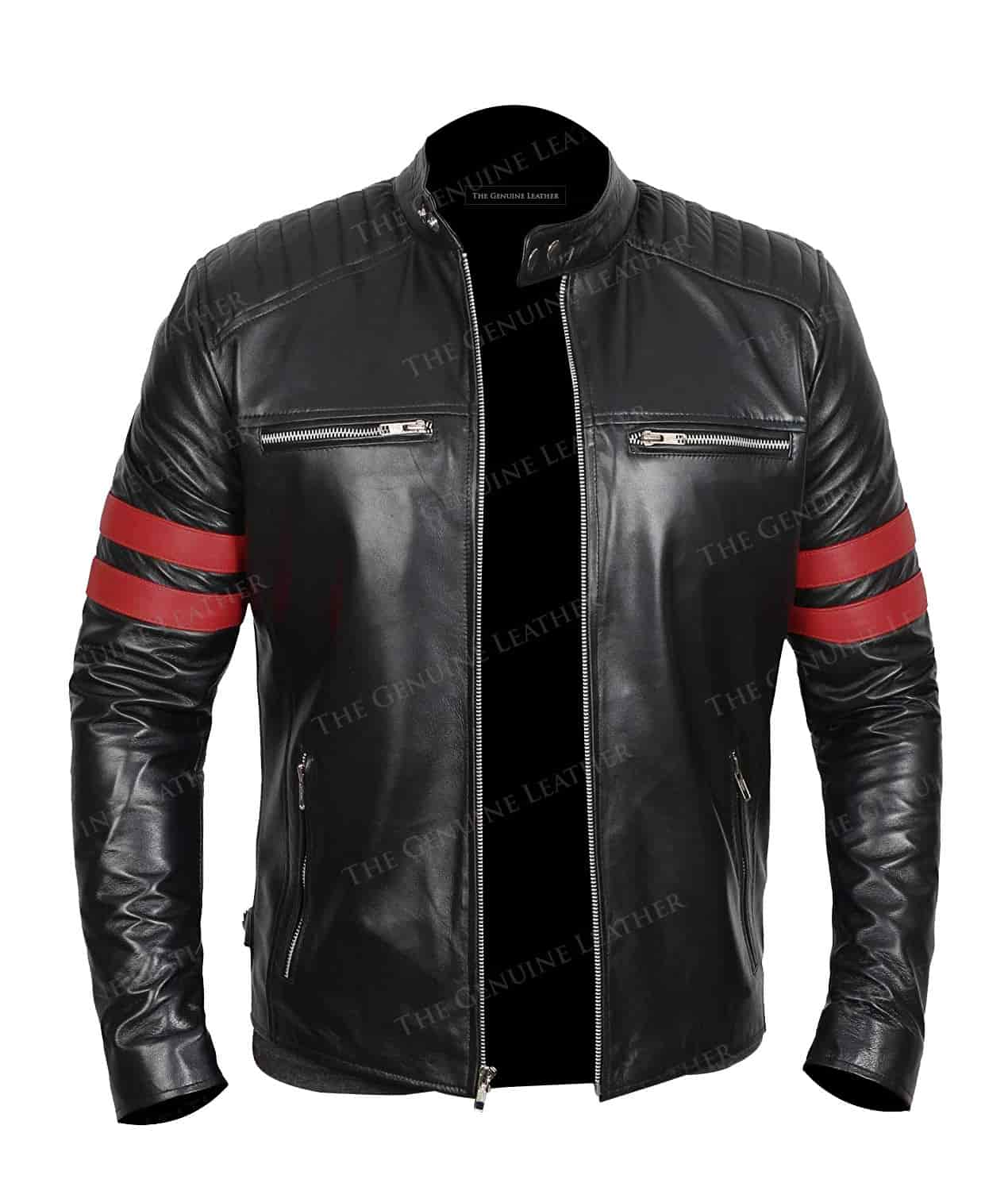 The Motorcycle Jacket of evergreen nature is certainly a go-on choice for the biker out there. It has made of a premium leather jacket with a soft touch of sleek and shiny appearance. Just choose an accurate size and you will thank yourself for it!
Harley Davidson Bill Goldberg Jacket
Made from genuine leather material, it's the attire for professional bikers. It is a lightweight and perfect item for your everyday riding. The internal lining of soft viscose has made of cellulose material to keep you comfy like a T-shirt. So, don't miss the opportunity and seal the deal on this Motorcycle Jacket!
Southside Serpents Jacket
The jacket of vibrant nature has made to never compromise on your looks and comfort. With a delicate genuine leather material, you can't tell the difference if you are wearing a leather jacket or a T-shirt. Explore the world outside with its never-ending comfort style.
Mens Cafe Racer Retro Black Leather Jacket
Some things are there to serve you till eternity, and this jacket is one of them! Our craftsmen choose genuine leather material to give a clean look of its integrity. With a close-grain texture, you can never feel the norms of discomfort in it!
Captain America Motorcycle Leather Jacket
With the perfect balance of colors and logos, this jacket can be a fine choice for extra loyal dudes. Or even if you are a casual person looking for a nice jacket, it can be the right partner for the ride. Symbolize your love for your country or save it for an independence day ride.
Mens Retro Motorcycle Leather Jacket
Sleek with design and material, this jacket has found its way after our artisan finalizes this with genuine leather material. Nothing can be better than the replacement of chinos and a T-shirt with jeans and this jacket. Mark your style signature style with it and go on your next ride with more confidence!
Harley Davidson and Marlboro Man Jacket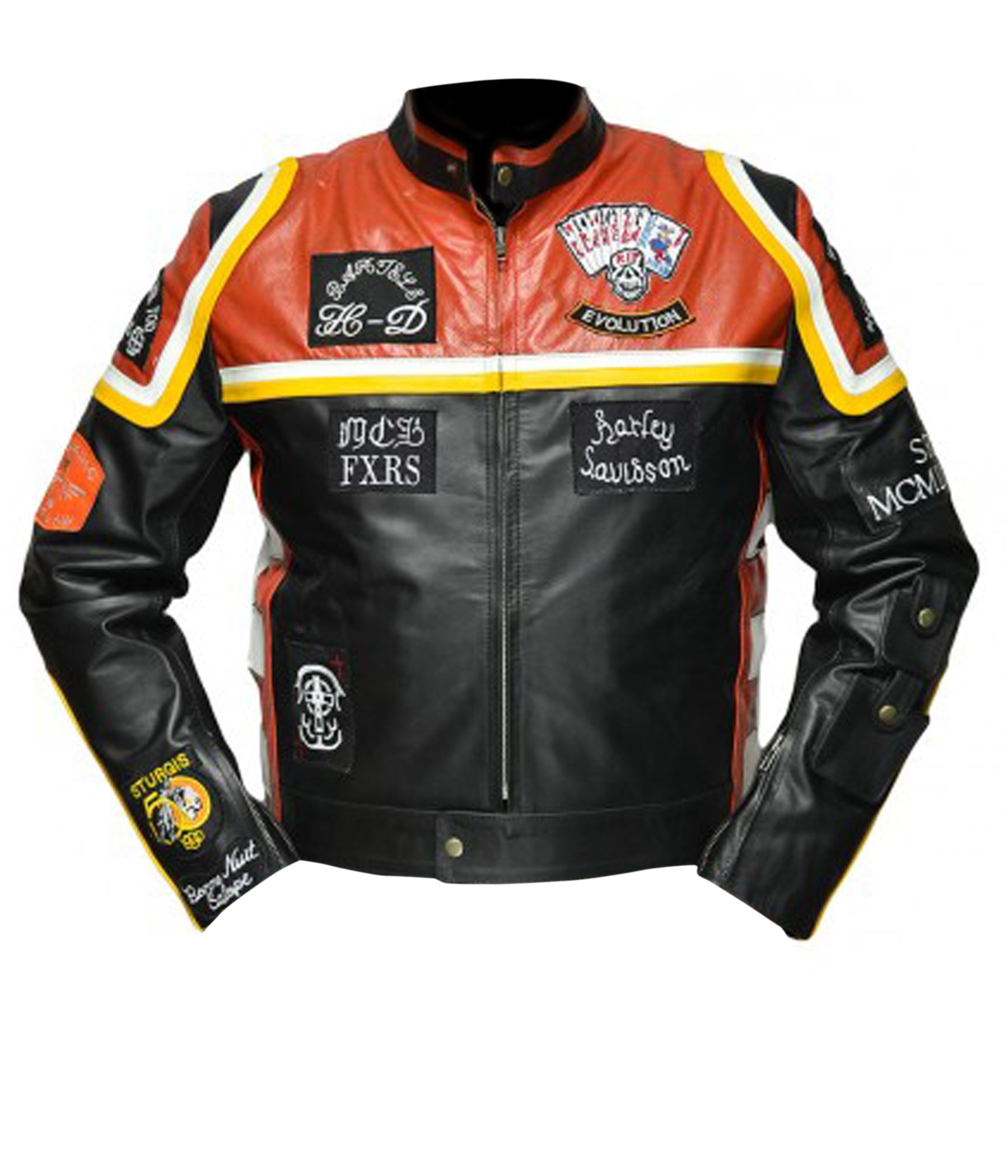 I dare you to ignore it if you are a Harley Davidson fan. This jacket comes in fashion for decades and due to its everlasting nature, no one has a choice to wear it. Made from real leather material, the jacket can be your perfect riding partner.
Mens Cafe Racer Distressed Red Jacket
Going against the norm needs a bit more effort. As a result, this jacket has lovely accents that are just a little bit extra! It is made of 100 percent real leather and has a nice inner viscose lining. This beautiful jacket features a straight-style collar that is both basic and classy. The conventional front zipper closing preserves the jacket's practical characteristics. The Motorcycle Jacket is a must-have because of its unique faded feel!
Let us tell you some additional details about our Motorcycle Jacket Collection.
Rugged out material
As aforementioned, the Motorcycle Jacket sometimes called rider jackets are popular because of their robust nature; our collection has the same taste. All our motorcycle jackets brown leather jacket and black leather jacket have better resistance against scratches and will protect you during falls. The small-grain leather has tight, close manufacturing.
Better Ventilation
All premium Motorcycle Jackets have an inner viscose lining. It is one of the breathable materials making it ideal for wearing in spring and for some regions in summer as well.
Gripping pockets
Are you always worried? That your Motorcycle Jacket doesn't have enough space to hold your belongings! But you don't need to worry about it in our case these motorcyclist jackets have roomy pockets to hold your items.
Branded Zippers
We always believe in providing quality at a reasonable cost. That is the reason our Motorcycle Jacket comes with branded YKK zippers to deliver buttery-smooth movements. These zippers are made to last long without a scratch.
Finest Stitching
Our craftsmen believe in one of the finest seamless finishes; that's why it is hard to spot if the motorcycle jackets once existed in three different pieces.
The list of features is never-ending, I mean, you will become exhausted, but the list will keep going on! So, we think these features would be enough to make you choose any?
Best Motorcycle Jacket
Now, by considering the reviews of our valuable customers we recommend these most demandable Motorcycle jackets to passionate riders to make their ride comfortable, safe, and adventurous.
Pro Tip: Combine these Men's Motorcycle Jackets with leather boots and slim-fit jeans to put a cherry on top. And hurry up, we are on the sale so the stock will run out quickly! Although we have already presented you the stack of information about the purpose of the Motorcycle jacket. But let us give you some quick answers to your most asked questions on the internet.
Frequently Asked Questions
Why do bikers wear leather jackets?
We know already that leather is tough and rugged against other fabrics like cotton, Denim, and Linen. So. in the possible case when the bike went down, the leather jacket can protect him from abrasion. Our craftsmen adopted the quality of making motorcycle jackets equivalent to some famous Biker Jacket Brands Like Suzuki, Yamaha, and Harley Davidson. The only difference is in the price!
Is a leather jacket enough for a motorcycle?
There is a simple one-word answer for this question, and the answer is YES! Why? Because the leather can protect you from any kind of abrasion and resistance on the road. Plus, you can enjoy the aesthetic part of being chic in it!
What's the best motorcycle leather?
Alpinestars. It's fair to say that Alpinestars is one of Italy's 'big two' leather manufacturers. on the other hand, we have Dainese, RST, Rev'It, and Furygan. But do you know there is another brand that is striving its best to offer the top-end product to their customer? The brand is non-other than Thegenuineleather! Don't trust us, but don't ignore what our customer has to say about our Motorcycle Jackets.
Why do bikers wear black?
Aside from looks do you know black color adapts to the conditions of an environment for the Biker? It helps them to hide any mark of dirt, soot, or oil while they cruise through the empty roads.
How long does a leather motorcycle Jacket last?
Our Motorcycle Jackets have the tendency to serve you till eternity if taken care of properly. Yes, you heard it right! Our jackets possess a similar level of high quality as Alpinestars,  Dainese, Yamaha, and Harley-Davidson. So, don't forget to pick the one that suits you best!
Why do motorcyclists wear leather jackets?
Motorcycle riders wear leather jackets for a variety of reasons. Exceptional Rider Safety. Biker leather jackets, vests, chaps, and other protective gear are used primarily for safety reasons. Yes, the leather has a high level of abrasion resistance. As a result, it can help you avoid bruising and wounds in the event of a collision.
Should I wear a jacket when riding a motorcycle?
The majority of jackets provide weather protection. If you ride a lot, you'll probably discover that you're more cold than hot, so a motorcycle jacket is a good investment. Although it may be exceedingly hot at times, it is still necessary to wear a jacket.
Can I wear a normal jacket for a motorcycle?
Motorcycle jackets contain armor for protection and are thicker, whereas conventional leather jackets are thinner and intended to keep you warm. You can ride a motorcycle in a typical leather jacket, but make sure it fits snugly because loose leather can grind against your skin during a crash.
What is the difference between a bomber jacket and a motorcycle jacket?
A biker (a motorcycle jacket) is waist-length, belted, and has a flared collar with a diagonal zipper. With a straight front zipper and a banded collar, a moto (racer) is sleeker and more fitting. A bomber (also known as a flight jacket) features a softer, slightly blouson fit with ribbed trim at the waistband and wrists.
Is a denim jacket good for motorcycles?
A denim motorcycle jacket is a slight improvement over a T-shirt. At slower speeds (stop-and-go traffic), this sort of jacket will provide the rider with the bare minimum of abrasion protection. However, as the speed of the vehicle increases (highway speeds), the protection provided decreases dramatically.
What should I look for in a leather motorcycle jacket?
Followings should be the number one priority!
The material should be rugged, have handy pockets, soft internal viscose lining, better ventilation, and a nice visible appearance.
What do Motogp riders wear under their leathers?
A rider should wear a nice fitted suit under his or her Motorcycle Jacket. It will help them to enjoy the ride hassle-free without any discomfort.
Are jeans OK to wear on a motorcycle?
Jeans can be the best option to wear, but they should be stretchable and shouldn't be too tight to cause inconvenience. Also, topple nice leather boots to put a cherry on top.
Some Quicks Ponders about the Motorcycle Jacket specs
• Most jacket that is made for Women are lightweight and has lesser weight if we compare to Men's Motorcycle Jackets with Armor. That's why the jacket is termed a Women's Lightweight Motorcycle Jacket. But women's Motorcycle Jacket with armor can offer an adequate amount of protection during the fall if someone is going for the lightweight feature.
• Motorcycle Vest is also famous among the bikers that have back Patched. This motorcycle vest with back patches is for those who are on the comfort side of their ride. Harley-Davidson Mesh vest can also fall in this category. So, next time you are considering picking any motorcycle riding jacket, you can replace that with a motorcycle vest.
• Leather jackets can be the best all-weather motorcycle jacket for your wild rides at night or during the day.
• We know how important it is to choose a perfect size that's why our and Alpinestar Motorcycle Jacket size Chart follows the accurate level of dimensions. So that our customers can get the best size according to their body.
• We also offer Custom Sportbike Jackets so don't forget to shake that section also.