Women's Cotton Jackets Outfits
Women's Cotton Jackets Collection
WOMEN's COTTON JACKETS are necessary clothing as well as fashion accessories. Unquestionably a classic that has dominated menswear for decades. We saw significant alterations as well as fresh developments in terms of design, functionality, and construction throughout the course of the year. It can be difficult to choose which timeless embellishments to use for daily purposes because there are so many of them.When compared to other fibres, Cotton Outfits for women offers so many benefits! Cotton will prevent irritations if you have sensitive skin while still being incredibly resilient, carefree, and adaptable.
Cotton fabric's history:
The cloth dates back to the Greeks and has been used on this planet for more than 7000 years. Following Alexander the Great's discovery of it in the year 300 B.C., it spread all over the world since it is a more comfortable cloth than wool. Although several industries used both heavy machinery and labour to make cotton in the 18th century, the amount produced was still insufficient. Due to the catastrophic decline of the textile industries in Europe and North America during World War One, South Asia now leads the world in the export of cotton fabric.
Benefits of a Cotton Jacket
Its weight is a defining characteristic. It is a lightweight item that performs admirably throughout the year, particularly in the hot and dry summer months. Cotton clothing may not be widely used in some areas due to the chilly climate. Therefore, shearling leather jackets are popular among those who frequent those kinds of places.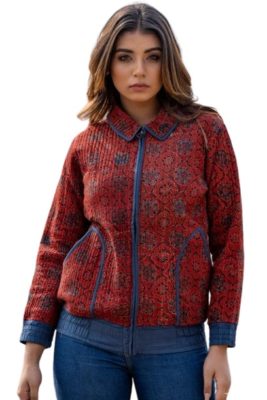 Convenience:
Cotton cloth immediately conjures up images of comfort. It may stretch and is gentle enough for all skin types. Cotton is easy for people with skin sensitivities to wear, and it is also environmentally friendly.
Resilience:
Cotton is frequently resistant to water and dust, although this only applies to high-quality fabrics. Any jacket made entirely of cotton will provide sturdy support.
Cotton is reliable; it keeps its shape even after numerous uses and washings. It may survive for several years with little maintenance and still look fantastic.
Affordable:
 Women's Cotton fabric jackets start as low as $49, which is not pricey, unlike leather jackets, which can cost more than $200. You may determine how economical cotton clothing is by comparing its price to the value it adds.
Cotton Jacket Styles: 
There are many different cotton jacket types from which to choose. Below, I've provided a list of some of the better iterations of these coats.
It's time for a style update! Check out Bryce Dallas Howard's fearless and fashionable appearance in the Women's Leather Jacket which has wowed admirers. She has worn this motorcycle jacket, which will boost her confidence, to portray the role of Claire Dearing. You might earn notoriety among the fashion elite by pairing this tough coat with jeans or denim. The bomber jacket's intricate characteristics make it an even more popular item among stylish women.
Hello, sneakerhead! Increase the impact of looks on your appearance by dressing in Sneakerella Your preferred pair of sneakers and a Lexi Underwood pink bomber jacket. The suggested clothing is a parody of Kira King's bomber jacket from the musical comedy and family film Sneakerella 2022. In this film, Lexi Underwood is portrayed by well-known actress Kira King.
I'd like to introduce the Women's Winter Jacket without taking up any more of your precious time. The aforementioned outfit concept was also inspired by the television show Green Jacket. And while playing "Kirby Mizrachi," our adored and stunning actress Elizabeth Moss wore this jacket. Elizabeth, who has been sought after, gone through a lot of personal change, and had hallucinations, is the focus of the show. Elizabeth gave a performance that was both superb and expert.
Frequently Question Ask Answer 
Is a cotton jacket suitable for the winter?
Since cotton fabric collects moisture and holds it next to your skin, a cotton jacket—which is designed to be lightweight—is not advised for winter. Keep your cotton jacket for the summer; it will keep you cooler by adding more moisture.
Which summer jacket is the best?
Although there are many different styles and materials for jackets, just a handful are appropriate for summer, with cotton coats topping the list. It provides flexibility while preventing sunburn on the skin.
Cotton jackets—are they in vogue?
For people who are allergic to materials like wool and fleece, cotton coats are ideal. These coats are highly budget-friendly and suitable for practically all seasons.
 Is cotton or polyester warmer?
The finest jacket for summer is made of cotton because it retains moisture, which is helpful in hot weather. Cotton is not as warm as polyester, which makes it ideal for winter.
What kind of material is utilized in varsity jackets?
While the sleeves of a varsity jacket are made of leather and the body of the jacket is made of wool, several manufacturers also create cotton varsity jackets, which are very popular since they are more affordable and functional.
Cotton clothing shrinks, right?
Not all cotton jackets shrink after washing because most jacket makers use preshrunk cotton while making jackets. Purchase your cotton jacket from a trustworthy retailer only.
Is it feasible to wear a long top and a short jacket together?
There is no legal prohibition against wearing short jackets with long tops, so feel free to experiment with various top lengths to see which suits you the best. A long top also works nicely with the jacket and adds balance to the entire look.
Which outfits work best with cotton jackets?
In the summer, a cotton jacket looks best when worn with a relaxed white t-shirt and blue or black pants. However, you can increase your ability to withstand the cold in the winter by donning a turtleneck or sweater.