BOMBER JACKETS
The Genuine Leather brings Men Bomber Leather Jackets At The Genuine Leather, Letterman Varsity jackets and other styles of Bomber Jacket are also available which are mostly celebrities wear.
Bomber Jackets, Mens Bomber Jacket, Bomber Jacket For Men
History and foreground
These Bomber Jackets were famous as protective wear for the militia during World War I and II. The European Air force introduced this for their pilots due to its robust and rugged nature. The jacket was a symbol of pride for the soldiers that why many forces of other countries also hosted it.
This Bomber Jacket is a true sign of bravery as a Man. And because of its rich history, the jacket found its routes as the fashion sensation in today's world. Primary Appearance. As the basic design, the Bomber Jacket has a simple straight collar with full sleeves option. Since it has a loose look from the middle, it portrays the baggy taste. Initially, there were only two colors available when it was first introduced, Black and Dark Green. But today, it comes in various shapes and colors, and we got all of them. How can you style it? Due to its vibrant nature, you can combine it with any slim-fit jeans and pair of sneakers. It will assuredly highlight the ultimate casual look of you! So, why not combine it? Cheaper than Genuine Leather Jackets? No doubt,
Bomber Jackets are way cheaper than a Genuine Leather Jacket as you can get them below 90 dollars. But some are compromising its quality! But on our site, we assured you to give the best quality at the best price possible so don't resist ignoring it! What do we have on the table? Our versatile collection has so many options to shop for from Men's Distressed Leather Jacket to Men's Black Resistance Letterman Jacket. Let us present you with some of the best options!
Bomber jackets have developed into a phenomenon that knows no border, language, or culture. Being versatile, gender-neutral, and relevant to all ages, Leather Bomber Jackets, in particular, has never been more widely recognized across the world than it is now.
Have you ever wondered about what is a Bomber Jacket?
Bomber jackets are uniquely designed with short waist length along with ripped waistband and matching cuffs. It has a front zipper closure and often has 4 functional pockets at the top and sides.
Other than leather they are manufactured with premium quality cotton, wool, and polyester. Moreover, bomber jackets have evolved and they either have a flat collar with a contrasting waistband or a shearling collar craft with standard quality fur.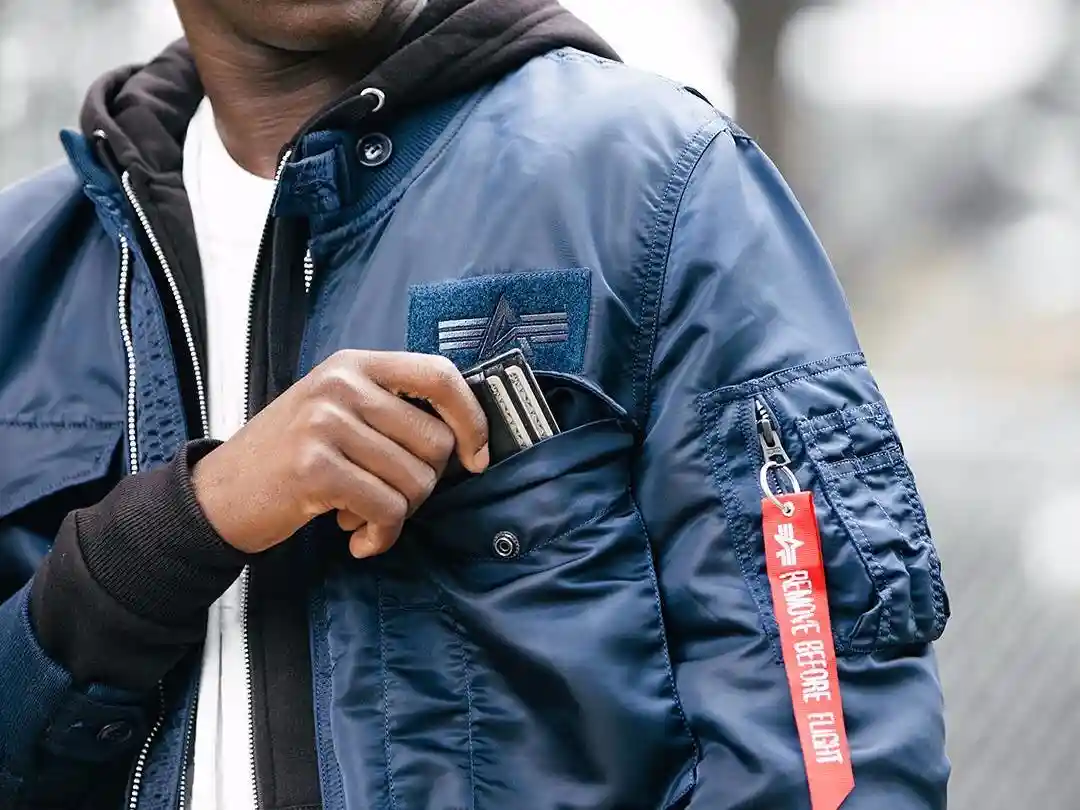 History Of Bomber Jackets
Bomber jackets were initially known as 'flight jackets'. The US Army Aviation Clothing Board created them in 1917 to keep WWI pilots warm in the uninsulated open-air cockpits of the early fighter planes.
Aviation advancements have led to improvements in flight jacket design over time. Changing cockpits, narrower and heavier with technology, led to new designs – among them the leather US Army Type A-1 in 1927.
It had knitted cuffs and waistbands, which insulated the jacket from cold air and gave it a particularly flattering fit. As the first bomber jacket with knitted sleeves, cuffs, and a waistband (although the 1927 A-1 had a button-up closure), the A-1 laid the groundwork for the modern bomber jacket we know today.
A-1 was followed by A-2, the first with zip closure, and the B-15, which appeared during WWII, followed by the upgraded MA-1 model, which appeared around 1949-1950, setting the standard for functional outerwear. Aside from its military associations, the MA-1 was also capable of withstanding temperatures between 14 and 50 degrees Fahrenheit – making it the perfect jacket for cooler months.
Style Icons And Bomber jackets 
Designers Helmut Lang and Jean-Paul Gaultier have reinterpreted the flight jackets into contemporary fashion with a modern twist. Helmut Lang released a minimalist version of the jacket in 2004, and it became a hit among critics.
Bomber jackets are regarded as one of the earliest designs to bridge the gap between military and civilian wear truly. As with many fashion trends, bomber jackets are a major fashion item. A variety of garments taken from military wear have been appropriated by fashion designers to reflect non-conformist youth cultures.
From a high-fashion perspective, it's not too surprising that bomber jackets have been everywhere this year. Moreover, the jacket appeals to women with the fact that it is a perfect blend of masculinity and femininity as well.
Yeah, sure, indeed a staple in men's closets, and it will be that way forever. However, fashion divas have reinvented the military look in recent years, pairing them with jeans or leggings and they look bomb wearing them. Ultimately, it's a seriously versatile jacket that goes with just about everything we're wearing today. It's comfortable and can be dressed up or down.
Family of Bomber Jackets 
Although there is a big family tree of a bomber jacket and there is a lot to talk about. However, we are here to add value to your wardrobe. This is why we have classified the jacket in the order that will help you choose the best one for you according to your needs and desires.
Black Bomber Jacket
One of the most cherished is a black leather bomber jacket. When it comes to clothing, style icons choose this because of the decent and simple appearance. Men and women both wear them because these easily go with anything.


When it comes to looking, men and women need a good outfit to make their appearance smart and bold. And this can be fulfilled by the black bomber jackets because they are available in many styles.
A bomber-style jacket can easily fit with the formal shirt and jeans in a very astounding way. Wear all day without any hesitation, a great outfit for the outdoor working person. Moreover, growing divas can match the black leather bomber jacket with good pair of jeans and contrasting shirts to fit the needs of the corporate world.

For a casual hang-out or a passionate dinner with a hot date fits perfectly with the black leather bomber jacket. The sexy entails such as rib-knitted waist along with the matching collar highlight the ultimate casual look that makes it a perfect match for smart-casual occasions.
Brown Leather Bomber Jacket  
A brown leather bomber jacket increases the beauty and smartness of the person's look. It's undoubtedly the best piece of outerwear for smart casual as well as professional use and as fashion attire due to its robust design.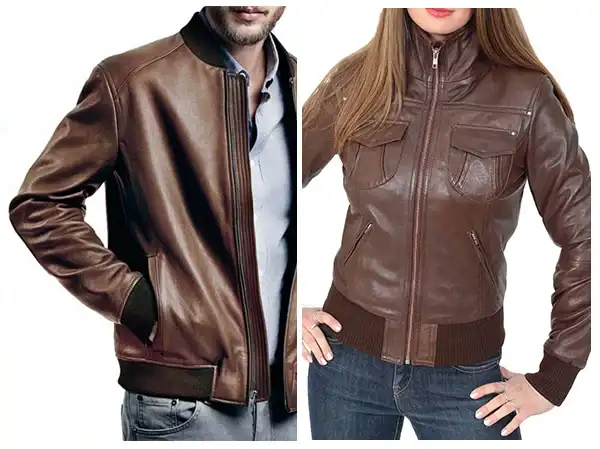 Men wear brown bomber-style jackets for casual wear because it gives a more appealing appearance while enjoying those casual club hangouts with friends. On the other hand, it blesses with passionate gaze for women, so you can enjoy nigh out with girls while these jackets throw out the magnetic glances.

the brown leather bomber jacket is the ultimate apparel that provides the wearer with a vintage-styled glance. The vintage look brings out the formal gaze in the jacket if carried with a formal style pair of pants and a complimenting shirt. Moreover, a heavenly official look for women if a white pair of pants is complimented with a brown jacket.
Cotton Bomber Jacket 
Summertime calls for less layering and something easy to wear. A typical bomber jacket is a big no for hot summer days, so with the evolution in fashion, for hot summer days lightweight bomber jackets are the easy pick. These can be combined with simple clothing and yet look elegant and smart.

The bomber jacket is also a good choice for the corporate world. A working woman should own this jacket for safety and a cute outlook. No matter what's your dress code is, a bomber-style jacket will always make it look right. Men are no exception, a cotton bomber jacket highlights the uber-comfy look out of personality while giving you an official gaze in the authoritative world.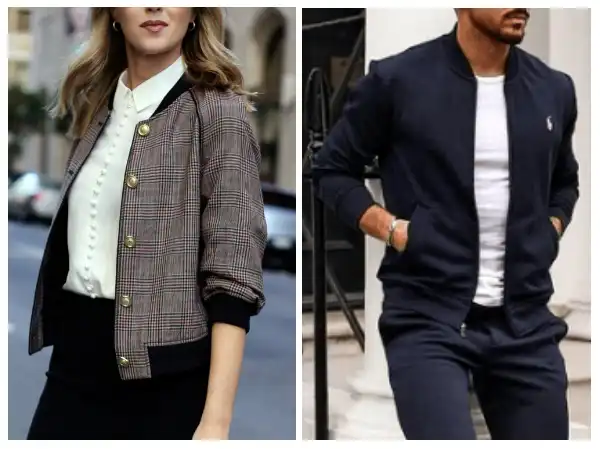 For casual wear, there is a wide variety of cotton bomber jackets, with a blend of controversial colors that highlights the ultimate casual persona. Cotton jackets are the perfect fit for women, looking for something casual and easy to carry. Moreover, we men like something casual for everyday use but that casual something must highlight the handsome side of our personality. And I see those entails in the cotton bomber jacket.
Satin bomber jacket
The satin bomber jacket is the perfect piece of art. Satin is a weave type of fabric that produces a characteristically glossy, smooth, or lustrous material, typically with a glossy top surface.

The satin bomber jacket is a piece of heaven for divas because of the smooth and glossy look along with floral designs that will portray you as a magnetic style icon where ever you decide to celebrate your weekend. Men enjoy the creative embezzlements inspired by popular brands and movie series that highlight the cozy and lavish look and portray the alpha male personality while you enjoy dinner with your family.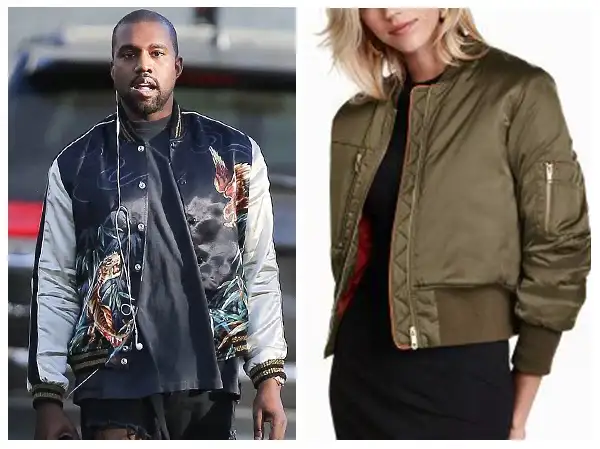 Furthermore, about the formal look. If your office environment allows semi-formal dressing then there is nothing better than a satin bomber jackets. Women can easily carry it with a contrasting pencil skirt with a complimenting shirt to highlight the semi-business look. On the flip side, men can bring up the semi-business look with suit pants with a shirt over a classic color satin bomber jacket to slay a day in the office.
Puffer bomber jackets
The puffer bomber jacket is the perfect piece for a style icon wardrobe. Puffer is crafted with the help of premium quality parachute material to provide you with a heavenly lavish glance.
Puffer bomber jackets are ideally designed for you to enjoy all the snowy celebrations you want to at the chilliest time of the year. Doesn't matter if you are up for skiing, snowboarding, or skating in the middle of ice land. Puffer jackets will provid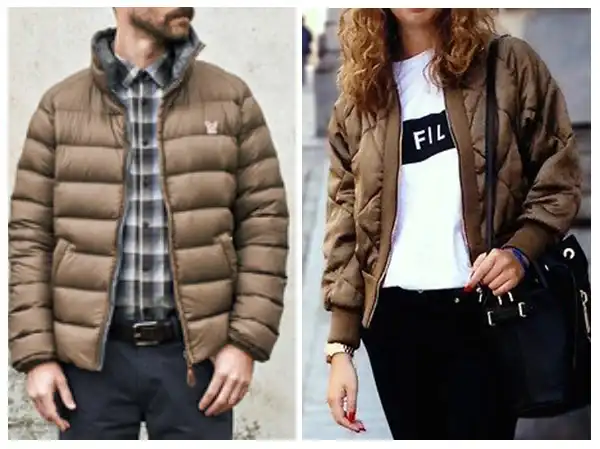 e you with warmth and coziness for the day.
Down bomber jacket holds a special place in women's wardrobe, because of their lively dazzling color they enhance the beauty of our fashion divas. Moreover, they are really easy to attire within any situation because of their versatility. Further, creative design with classic color of puffer bomber jacket allows you to wear it within corporate settings as well as on that intense dinner with a handsome date.
Men enjoy the creative classic puffer bomber jackets inspired by popular brands and movie series that highlight the cozy and lavish look and portray the alpha male personality. Men can wear them easily with a nice pair of pants and rugged shoes to enhance the smart casual look. On the flip side, suited pants with classic shoes can help you conquer your office world.
Aviator Bomber Jackets
Aviator bomber jackets are the ultimate vintage with a trendy glance piece of art. They are exceptionally an essential part of men's outfits. Nevertheless, women's aviator bomber jackets are no less than a staple in women's collections.

We have a wide variety of bomber flight jackets that has the entails to highlight the ultra-casual look, with uber-comfy entails, helping you with a perfect look for your friend's irregular occasion.
Aviator bomber jackets come with classic vintage looks that help the jacket to fit perfectly in the corporate world. Men just need light color tone pans with a dark tone shirt with a bomber aviator jacket and you are ready to take over the workplace. Inversely, women can make an aviator jacket work with an intense colored pencil skirt under a light tone formal shirt to slay meeting looking a working stylish icon.

The genuine leather presents this intense collection of outfits to our customers. So that you can move out in the world looking like a lavish and confident persona. Our collection includes bomber jackets from popular TV series and renowned films along with bomber jackets inspired by celebrities. That, too, at very cost-effective price tags. Which you might not find on any other platform.
FAQS
WHAT IS ANOTHER NAME FOR BOMBER JACKETS?
The flight jacket, bomber jacket, or bombardier jacket refers to a garment originally created for pilots. They eventually became part of popular culture and apparel.
CAN BOMBER JACKETS BE WORN IN SUMMER?
You can totally wear bomber jackets in summer, provided you choose one that is in cotton, nylon, polyester, denim, or some other fabric that can be worn in hot or humid temperatures.
HOW OFTEN SHOULD YOU WASH YOUR BOMBER JACKET?
Once a season, if worn sporadically; twice a season, if worn regularly.
HOW TO WASH A BOMBER JACKET?
Almost all woolen fabrics, including blends, can be hand washed. You can even wash suede bomber jackets by hand, but always read the washing instructions on the label first.
Put mild detergent in the sink. Refer to the detergent's instructions to determine how much to use.
Fill the sink with cool water.
Hand washes the jacket by rubbing it against itself and wringing it out.
Rinse with cool water.
Air-dry the jacket by hanging it up.
HOW SHOULD A BOMBER JACKET FIT?
Unless you've chosen a cropped style, bomber jackets should always rest loosely on your hip.
Clingy cuffs should not go past or above your wrists, regardless of the fit.
A small size will fit if the cuffs hang loosely over your hand.
Finally, look at the collar of the jacket, which should fit comfortably – touching your neck rather than being loose or tight around it.
Our bomber jackets in style 2022?
Though bombers are a classic, they're also on-trend. Bomber jackets are still in style and are a great investment piece you can wear for years to come.