Womens Jackets
Top Ten Womens Jackets
There are two types of women in the world. One who doesn't give a damn about style when it comes to winter, and the other who only cares about their appearance. Well, not this time. This winter, you all divas will enjoy the cold wearing friendly and classy outwears.
So if you haven't figured it out yet, what would be the best magical jacket for you this year? No need to be upset.
The genuine leather has launched a Top 10 Women's Jackets Collection; it has the most alluring outwears that will bless your closet and make this season a memorable one.
Our collection includes top attires from the most popular movies, TV series, and celebrities.
So let's explore your options! Here is the list of the top 10 women's outfits that will bestow you with a glance you have always desired.
Tremendous top-ten women's jackets for your winter wardrobe
Emily In Paris S02 Lilly Collin Silk Jacket
The Genuine Leather brings a classic to outwear from the wardrobe of Emily in Paris. Emily in Paris S02 Olive Bomber Jacket. Undoubtedly a fine piece of art that will keep you warm and highlight your fashion diva persona.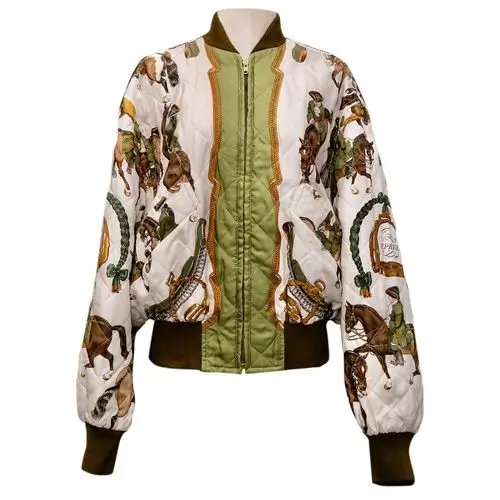 The jacket has a beautiful colour contrast within white, brown, and green colors, showcasing embezzlement beneath the collar with light brown colour.
A fascinating thing is how horses with the same color contrast originate on it. Truly the fine piece is a must-have for fashion divas. Unquestionably a staple in the closet.
Emily In Paris S02 Camille Military Jacket
A vintage-style classic outfit inspired by Emily in the Paris franchise. Camille military jacket is that magical outfit, which will provide you warmth and a homish impression while you attend business in a chic approach.

The jacket has numerous peppery entails. The jacket is a military-style jacket, and symmetrically driven wide black lining throughout the jacket enhances its look like a heritage piece of art.
The contrast between the disputed colours "black and white "is the cherry on top. A jacket is imperative for every single leading lady to shape your blinding wardrobe.
Emily In Paris Emily Cooper Floral Puffer Jacket
If you don't like the idea of heavy jackets that weigh you down, choose a lightweight down jacket that protects you from harsh conditions like the Arctic air. The tenderness of the Emily puffer jacket is the lively flower design throughout the jacket, along with multiple controversial colour contrast. Such as green, pink, yellow, and black.


Flowers highlight a lively part of your personality. On the other hand, the blend of dazzling color makes you appear peppery hot while bestowing you with a noticeable glance.
Women's Aviator Brown Leather Jacket
A shearling jacket is that magical jacket, which is a craft to keep you warm in very harsh weather conditions. Premium leather, a comfy shearling material, will give you a sense of wearing a blanket.


The Aviator jacket has to hide specifying on the sleeves and hemline as well. The jackets have planned stripes in dull earthy coloured shading that glances very engaging in looks. The arrangement of shading of brown white, and dark colors make Aviator Brown Leather Jacket incredibly the first choice for any woman who loves a vintage style.
Sex/Life Billie Connelly Jacket
A trendy outwear that holds the capability to make you shine like a star because of its elegant design and keep you warm with premium leather material.

Billie Connelly's jacket has peppery entails. For starters, the seductive pink color will make you a different personality in the crowd.
Lapel-style collar, along with the creatively distinct texture on the sleeves, makes it out of the world.
13 Reasons Why Alisha Boe Leather Jacket 
The material used in this jacket is natural leather making it super warm for you.

This jacket has the power to give you feelings of strength, ambition, and courage. And it also has warmth and comfort on priority, so – having one seems like the wisest decision ever!
13 Reasons Why Alisha Boe Leather Jacket is here for you to remind you that you deserve all the best!
It is on the top ten jackets list because it makes you appear like a goddess of beauty in this maroon jacket and make your days memorable!
Juno Temple Ted Lasso Puffer Jacket
Juno temple jacket comes in the top ten jackets list because of being a lightweight jacket and yet providing you with the warmth and comfort of a heavy jacket.

The tenderness of the puffer jacket is the unique compliment of two high-tone colours, black and golden. Which bestows it with a classy gaze while making people's head turns to appreciate your beautiful personality.
Pretty Little Liars Ava Jalali Shearling Jacket
A shearling jacket is a unique jacket with an oversized lapel-style fur collar that gives you a lavish glance. Premium denim quality material that will keep you warm. Moreover provide you with an ultra-casual look.
Imagine captivating mountains that have snow-covered tops. We can see the same magnificence in this jacket too.
Top Gun MA-1 Rust Women's Bomber Jacket
The top gun jacket is uniquely crafted with high-quality satin material to keep you warm and cosy in minus Celsius.

Peppery entails the dazzling orange color that will drive out the passionate side of your personality and the creative embezzlements that give you a noticeable glance and provide a bright casual look.
Women's Boda Style Quilted Red Jacket
Women's Boda jacket is made with genuine leather, and however, if you love animals, we have faux leather options. The good news is both materials are effective in keeping you warm and cozy.
The jacket is full of sexy entails. For starters, the intense red color will highlight your appealing personality. Shirt style lapel collar along with zipper